A recipient of the Congressional Medal of Honor for his bravery in Vietnam has passed away. Santiago J. Erevia, a former member of the 101st Airborne Division, was 70 when he died this month in San Antonio, Texas.
He was one of three living recipients of the Medal of Honor who received their medals at the White House in 2014. They were recognized after an exhaustive review that Congress ordered in 2002 to find possible discrimination against Jewish or Hispanic service members.
This had meant that they had not received awards for valor in World War II, the Korean War, or the Vietnam war.All 24 of the recipients at that ceremony had formerly received the Distinguished Service Cross, the nation's second-highest honor for valor.
In his award citation, Erevia is commended for his actions after his company came under heavy fire from four enemy bunkers near Tam Ky on May 21, 1969. He was serving as a radio telephone operator in Company C, 1st Battalion (Airmobile), 501st Infantry, 101st Airborne Division.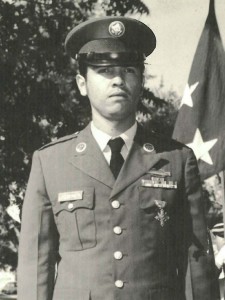 "With heavy enemy fire directed at him, he moved in full view of the hostile gunners as he proceeded to crawl from one wounded man to another, gathering ammunition," the citation reads. "Armed with two M-16 rifles and several hand grenades, he charged toward the enemy positions behind the suppressive fire of the two rifles."
Erevia advanced on the first bunker and continued the suppressive fire until he could drop a hand grenade in the bunker. He followed the same pattern to take out the next two bunkers. Moving to the fourth bunker without any remaining hand grenades, he fired point-blank at the enemy soldiers. His actions saved the lives of many in his company.
Erevia retired from active service in 1970. He joined the National Guard in 1972, where he served for a further 17 years. Afterward, he worked for the postal service until his retirement in 2002.
Erevia was inducted into the Medal of Honor rotunda at Fort Campbell's McAulife. He was the 21st member of the company to receive the award and the 19th from Vietnam.
He has also been awarded the Bronze Star Medal, Purple Heart, Air Medal, Army Commendation Medal, National Defense Service Medal, Vietnam Service Medal with five Bronze Service Stars, Combat Infantryman Badge, Sharpshooter Marksmanship Badge with Auto Rifle Bar, Marksman Marksmanship Badge with Rifle Bar, Republic of Vietnam Campaign Medal with "60" Device, Republic of Vietnam Gallantry Cross with Gold Star Device, and Republic of Vietnam Civil Actions Honor Medal, First Class.
His death was originally reported by the Bexar County, Texas, Veterans Service Office.