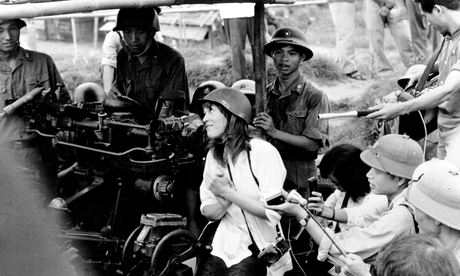 The controversial photo of Jane Fonda with the Vietnamese was taken in 1972, and to this day is one of the better known examples of her activism. The photo depicts a scene of mirth, despite the anti-aircraft gun mere inches away from where she stands. While the level of criticism she received for the photo was incredibly public, she dealt with the issue in a much more private setting. This little-known event is now the subject of a new play in Edinburgh, entitled The Trial of Jane Fonda.
The meeting between Jane Fonda and over two dozen Vietnam War vets took place in 1988, sixteen years after the photo was taken. She was there to keep them from publicly boycotting an upcoming movie of hers, called Stanley & Iris, which would have further damaged her image by bringing back to mind an older controversy. She also wanted to present her side of what happened.
When she went to Vietnam, she had already been nominated for an Oscar for one movie and taken home an Oscar for another. She was not yet known as an activist, known instead for her talent and her beauty. War footage was the catalyst which drove her to sympathetic views of the fighters on both sides. While she was widely photographed during her trip to Vietnam, Jane Fonda actually went along with her own camera to see if she could bring home footage of any types of scenes the government might have been covering up.
The private meeting resulted in high-strung emotions. The veterans were reminded of all they had fought for, and the actress was forced to question her activism in the face of how it affected those for whom she was speaking out. The Trial of Jane Fondaaims to capture this emotional level. The title actress had reservations about the play's creation, worried that it may bring rise to similar controversy as the one she went through. Still, director Terry Jastrow hopes that it will spark more thoughtful debate than blind anger, The Guardian reports.
The Trial of Jane Fonda is set to premiere on July 30th, with Jastrow's wife Anna Archer portraying the eponymous actress. Whether or not it will spark controversy is anybody's guess, with the actress having only recently spoken out against the current war in Iraq. She has not actually read the play, but having lived it, her reservations are understandable. With or without the support of Jane Fonda, the play is certain to bring about people's views on her Vietnam visit, be they sympathetic or not.