A fascinating take from the guys at Yarnhub on this video on this wartime rescue that emphasized the close bond between 2 brave men in 1950. Conflict costs lives but it also forges friendships. Everyone is brought together in the face of adversity.
A  pretty nice touch in the video from the YouTube channel Yarnhub is they have managed to incorporate an audio interview from Medal of Honour recipient Tom Hudner – oral history at it's best, it brings another insight into that tragic day.
Naval pilot Thomas J. Hudner Jr and convention-defying aviator Jesse L. Brown became the best of pals during the brutal war between North and South Korea (1950 – 53).
Hudner was white, Brown was black. They first met in a locker room and shook hands. Maybe it seemed like a passing exchange to them. It was actually the start of an amazing bond.
One passed up Harvard to serve his country. The other worked his way up from the fields of Mississippi, battling prejudice at home as well as enemies abroad.
Brown "went from steering a mule in a cotton field to steering seven-ton fighter planes onto aircraft carriers" writes CNN.
If things had been different, Brown may well have got to Harvard himself. An accomplished student, he had an interest in languages and a talent for the technical.
Supported by his family he aimed high, insisting on studying at white-centric Ohio State University. Eventually he reached the cloud,s as the first US Naval aviator of color.
He soared over the heads of local professors, who reportedly asked to analyze his skull because they couldn't believe someone like him could be so impressive.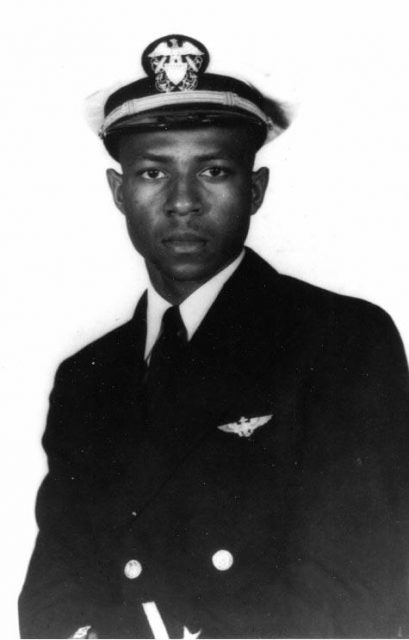 Hudner too worked hard, despite being from a comfortable background. Both went on to serve aboard the USS Leyte, flying into North Korea and risking life and limb.
In December 1950 they flew into an area called Chosin Reservoir (or Jangjin Reservoir). A Marine division needed help, putting it mildly. 100,000 Chinese soldiers had closed in on them.
The battle there would last 17 days. "The Marines appeared so doomed that newspapers back home dubbed them the 'Lost Legion'" CNN grimly observes.
American troops died in their thousands, and the casualties on the Chinese side were even greater. It was hoped the winged forces of USS Leyte would seek out and destroy some of the opposition.
The team from Leyte suddenly realized Brown was in trouble. His plane, a Corsair, was leaking fuel and it appeared he'd been hit. The aviator decided to put his plane down in a snowy clearing.
This dangerous move further damaged his aircraft. Brown appeared unscathed, but the craft had been knocked out of shape. As a result, he was jammed in the cockpit.
Freezing temperatures and an encroaching enemy meant the situation was doubly hazardous.
Up above, Hudner noticed his friend wasn't getting out of the smoking plane. He was certainly alive, as he'd managed to draw back the canopy and wave at his buddies.
It isn't clear whether this white grocery store owner's son from Massachusetts always stuck to protocol. He didn't that day. Hudner promptly downed his own plane near Brown's crash site.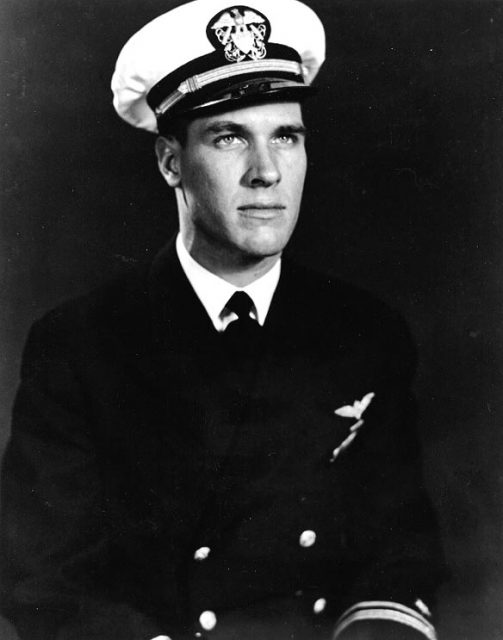 "The flight leader, I don't think he knew that I was leaving formation to do that," he said, "but I was determined to do it because I was concerned about the fire… and Jesse not being able to get out."
He then hurried to rescue Brown, pushing against a back injury sustained on impact. A rescue copter was on the way, but not quickly enough for Hudner. Brown lost his helmet and gloves, so Hudner covered his head in a woollen hat and wrapped his hands in a scarf.
The copter arrived, but that wasn't the end of their troubles. Extricating Brown proved incredibly difficult. As time went on, a devastating conclusion loomed over the group as they labored in the ice.
The light would disappear and the copter pilot couldn't fly in the dark. Hudner didn't want to leave, but escape was inevitable.
Brave to the last, Brown asked him to tell wife Daisy that he loved her. He was 24. "Hudner promised Brown, who was mortally wounded, he would return for him" the Daily Mail writes. And he did, though it wouldn't be until 2013 and the impending 60th anniversary of the end of Korea's conflict.
However to this day the remains have never been found. Brown received various military awards and decorations, including the Naval Aviator Badge, the Purple Heart and the Distinguished Flying Cross. The frigate USS Jesse L. Brown is part of his legacy.
Hudner was awarded the Medal of Honor. His friend touched and inspired many lives. In some ways Hudner's was affected the most, though he reached out to Daisy and Jesse's family afterwards.
One touching example saw him donate a check for $9,000 to the Browns.
Author Theodore Taylor wrote Flight of Jesse Leroy Brown in 1998. And the 2014 book Devotion chronicles the friendship between Hudner and Brown. Writer Adam Makos is currently developing a movie version of the story.
Hudner passed away in 2017 at the age of 93. He thought about Brown often. He also remembered the values instilled in him via his own clan. "From an early age, my father had taught me: 'A man will reveal his character through his actions, not his skin color.'"
While Jesse L Brown never got to witness the effect he had on future generations, he was more than aware of his trail-blazing nature. "I'm the beginning of things to come" he reportedly said, quoted by CNN.
When the 101st Airborne Saved Friend and Foe
The American Navy was desegregated in 1946 – less than a decade after Brown wrote then-President Franklin D. Roosevelt asking for boundaries to be broken.