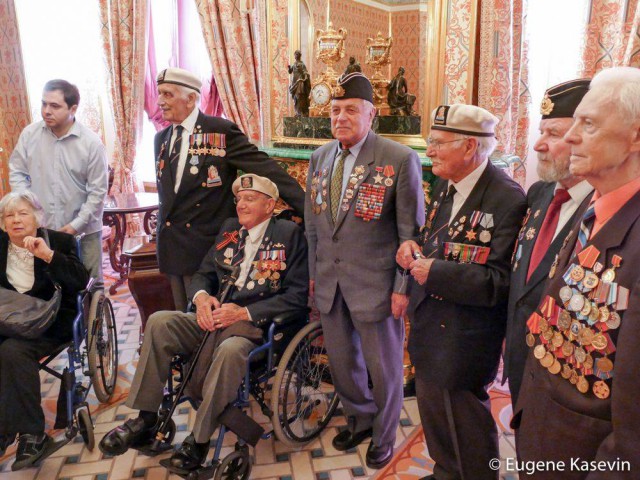 In an open defiance to British Authorities' advice, three Second World War veterans have made the trip to the hostile Crimea Peninsula to pay respects to their comrades who fought in the War with them. British Veterans William Bannerman, Ernest Davis and Seymour Taylor are currently in Crimea to pay homage to thousands of British sailors who were killed between 1941 and 1945. The British Sailors at the height of the Second World served as part of a campaign to deliver goods such as food, weapons, fuel and ammunition the Soviet Army fighting the superior Nazi war machine.
Originally six Second World War veterans were planning to make the trip to Crimea, but three decided to stay back due to the continuous British Foreign Office warnings about dangers in Crimea. After the situation in Crimea took an ugly turn between Russian backed rebels and Ukrainian authorities, FCO issued an official statement on their website urging all British nationals to leave Crimea for safety reasons.
Currently Crimea has been successfully annexed and is controlled by Russian forces and Pro Russian militias, and the territory is deemed hostile towards westerners especially Americans and Brits. FCO advised the British citizens to keep a low profile should they decide to stay in the region regardless, all such people were urged to stay in doors and avoid any mass gathering or protest at any cost.
All these restrictions by the Western nations, or dubbed by some as 'hysteria' could not stop three veterans to visit the region and take part in the commemorative ceremony for their fallen comrades. Veterans are planning to visit a number of Second World War memorials and are also scheduled to meet the Governor of Sevastopol Sergey Menial, and meet some Russian veterans from the Second World War. A tour to Livadia Palace is also part of their visit, where in 1945, the famous Yalta Conference was held.
Mr. Taylor said while speaking to the reporters that he was very glad to receive the hospitality of the local community in Crimea, and that he was very satisfied and content with his trip, meeting with all sorts of people and dinning at a Tatar restaurant, the Mail Online reports.
Thousands of Allied sailors, most of whom were Brits drowned after being bombed by the Nazis while trying to supply the Soviet Army with essential goods. Speaking to the reporters, British veterans said that Russian Army fought the Nazis very bravely, just like any other Army in Europe and they deserve our respect for that effort against Nazism.
Image Source: Facebook