The USS North Carolina was a mighty battleship that served throughout the Second World War. She was involved in intense combat on many occasions but only lost 10 men in action. However the Japanese claimed to have sunk this steel beast a total of six times. She chased the Japanese across the Pacific and survived the war. Thankfully the vessel was never scrapped and today resides in Wilmington, North Carolina as a museum ship and a memorial to the state's participation in WWII.
North Carolina was the lead ship of the North Carolina class of battleships, and was the first new battleship to join the US fleet in 16 years when she was commissioned on April 9 1941. The Washington Naval Treaty limited her armaments and weight, but this ended up making her fast – fast enough to keep up with aircraft carriers.
The vessel displaced nearly 40,000 tons and measured 222 meters (728 ft) long and 33 meters (108 ft) wide. Eight oil-fired Babcock & Wilcox boilers provided 121,000 shaft horsepower, which allowed the ship to achieve a top speed of 28 knots (32 mph). When traveling at 15 knots North Carolina had a range of 17,450 nmi (20,080 mi).
Originally she was designed to carry nine 14 inch guns, but a clause in the Second London Navy Treaty permitted the US to use nine 16 inch guns instead. Alongside these big guns, North Carolina carried twenty 5 inch guns, sixteen 28 mm anti-aircraft guns, and eighteen .50 caliber machine guns. Her anti-aircraft capabilities greatly increased throughout the war.
In peacetime, her complement was 1,800 men, but during wartime, this grew to 2,200.
Service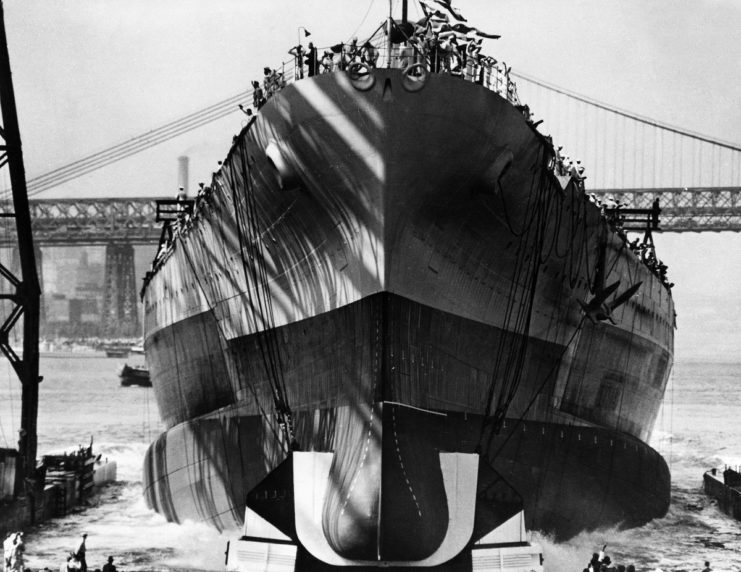 North Carolina was commissioned just in time for the United States' entry into the war and was one of the most powerful sea weapons on the planet. After Japan attacked Pearl Harbor the ship was sent on a pre-emptive mission to stop the German battleship, Tirpitz, in the Atlantic Ocean. However, the USS South Dakota took over this role, allowing North Carolina to relocate to the Pacific Theatre.
Her first actions were in the Guadalcanal Campaign, where she spent much of her time protecting US aircraft carriers. At the Battle of the Eastern Solomons, North Carolina helped defend the USS Enterprise against intense air attacks. The battleship was targeted by aircraft too but managed to survive the battle unscathed. One sailor was killed in the battle.
While near Guadalcanal on September 15, 1942, North Carolina was hit by a torpedo from Japanese submarine I-19, which tore a 5.5-meter (18-foot) hole in her side and killed 5 men. With some steady counterflooding the ship continued on at a respectable speed of 25 knots. She returned to Pearl Harbor for repairs.
During the Gilbert and Marshall Islands campaign, North Carolina continued her carrier-protecting duties but also offered her heavy guns to bombard Japanese-held islands. She shot down a number of aircraft and sank a cargo ship.
When attacks in the Mariana and Palau Islands campaign in 1944 breached Japan's inner defensive perimeter, Japan launched a formidable force to stop the US. North Carolina and a number of other battleships steamed to meet them head-on.
Between then and the end of the war the battleship shelled both Iwo Jima and Okinawa, helping the Marines assault the islands. During an intense kamikaze attack in April 1945, North Carolina was hit by a friendly 5-inch shell, which killed three men.
When the war finally ended she helped bring men home as part of Operation Magic Carpet.
Decommissioning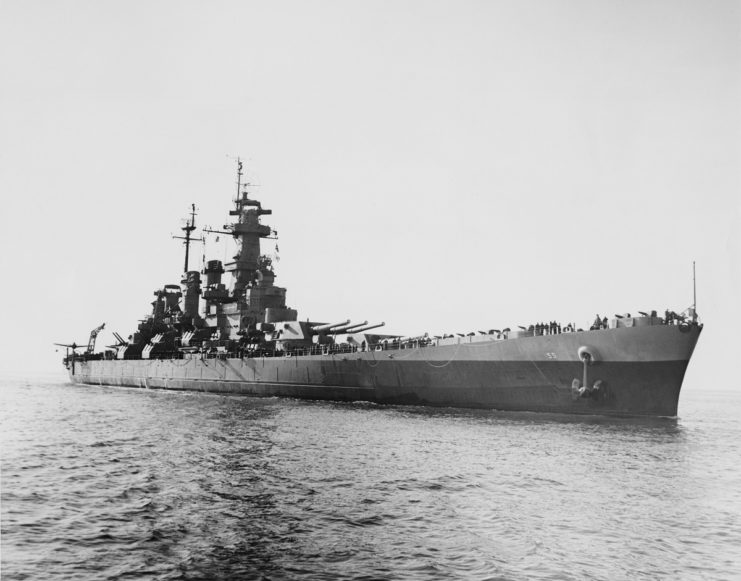 Despite her extensive wartime record, USS North Carolina was decommissioned in June of 1947 and was placed in the Inactive Reserve Fleet in Bayonne New Jersey. While she was out of service the Navy spent some time deciding what to do with her, with plans to increase her speed or to convert her into a helicopter carrier being investigated.
Both of these options were impractical, and the Navy struck her off the Naval Vessel Register on 1 June 1960 for scrapping. Fortunately, a statewide campaign led by James Craig raised enough money to save North Carolina and preserve her as a museum ship.
In 1962, just over 20 years after she was commissioned, USS North Carolina arrived in Wilmington, becoming the Battleship North Carolina Museum.