The COVID-19 pandemic has prevented us all from living our normal lives, including Old Ironsides. This 220-year-old ship hasn't left her berthing since October 2019, but thankfully with COVID restrictions easing, the vessel made her first voyage since then on Friday, May 21st. The USS Constitution, the world's oldest ship still afloat, set sail at 10 a.m. and let off a long-awaited 21-gun salute.
USS Constitution's Reopening
The Constitution has lived through every war since the 1800s and has now seen what is hoped to be the worst of the COVID-19 pandemic. She usually performs seven underways a year but was closed to public visitation in March 2020 to reduce exposing the public or crew to the virus. However, from Friday, the public can once again tour the ship and museum from Friday to Sunday between 10 a.m. and 6 p.m.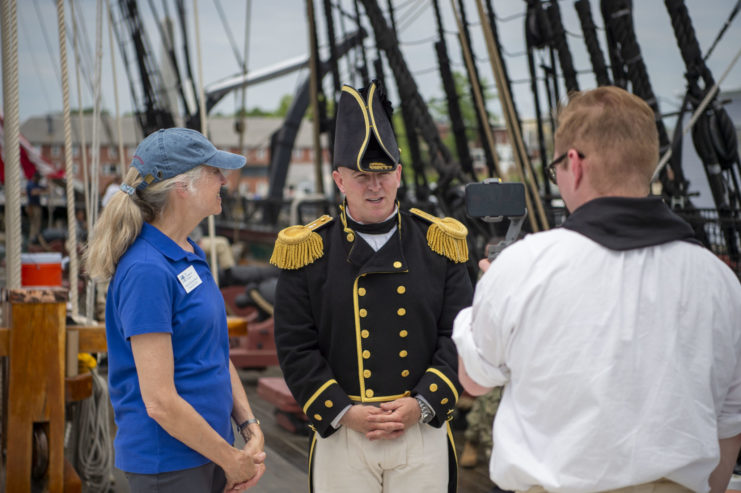 "Our last underway was in October of 2019 and it feels like Constitution is alive again to be out on the water," said USS Constitution Operations Department Head Captain Elliott Fabrizio.
In a normal year, the ship is toured by over 600,000 visitors free of charge, and is guided by active-duty sailors. Despite the ship's closing, COVID restrictions didn't stop the public from seeing her from home, as her crew began virtual tours shortly after the pandemic began.
The ship is now open on a limited basis, but from May 27th she will fully reopen to the public every day.
The Museum President and CEO Anne Grimes Rand said, "The USS Constitution Museum looks forward to wowing our guests with great hands-on experiences as we share the stories of 'Old Ironsides' and her dedicated crew, both past and present."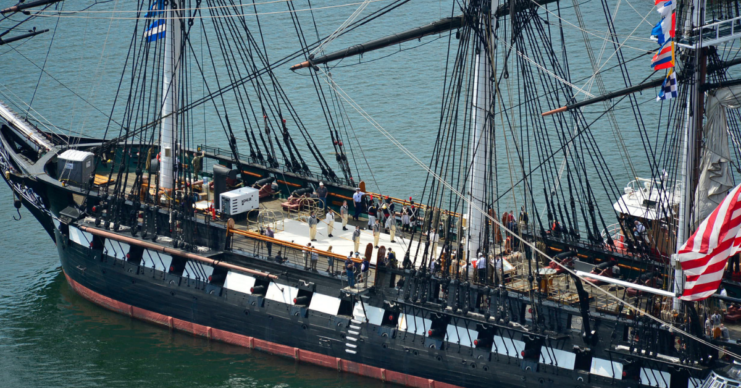 Friday's celebrations of her reopening to the public also included another 17-gun salute while passing the U.S. Coast Guard Sector Boston, and climbing demonstrations. Both the crew and crowds alike were extremely excited for her return.
Airman Megan Kearns said, "I feel very honored to be here because there's a lot of rich history that I've learned about, and just being able to continue the legacy of being a crew member on board is very rewarding."
Old Ironsides
The USS Constitution is one of the most famous ships in the world, and is, as mentioned, the oldest ship still afloat. She is beaten in age by the British warship HMS Victory, which was launched 30 years earlier than the Constitution and was used as Lord Nelson's flagship at the Battle of Trafalgar in 1805. The Victory is now a museum ship residing in Portsmouth's Historic Dockyard.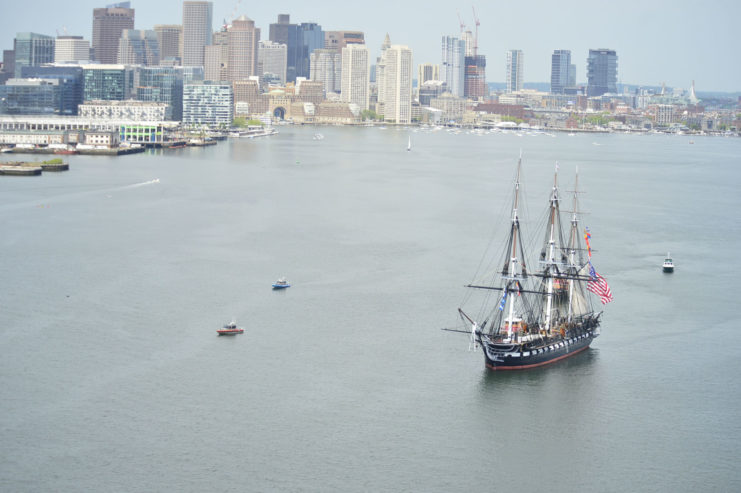 Constitution was launched in October 1797 as a capital ship, so she was larger and more heavily armed and armored than many contemporary ships at the time. Her name was submitted to George Washington, the U.S.'s first president.
After her construction at Edmund Hartt's shipyard in Boston, Massachusetts, she defended U.S. shipping during the First Barbary War. Her most famous action was during the War of 1812, which established her as a heroic vessel to the American public. The War of 1812 saw the U.S. battle with the United Kingdom. During this war, Constitution sank five British warships, and men observed British cannonballs bouncing off her hull, earning her the nickname "Old Ironsides."
She remained on duty until 1881, when she was retired from active service. By this time, steam-powered ironclad battleships had rendered the aging ship obsolete. Plans for scrapping the ship have been thwarted multiple times by the American public, whose adoration has kept her afloat for centuries.
In the early 1900s, ideas were discussed on what to do with the ship, with one suggesting to tow her out to sea and use it for target practice. The American public was outraged once this information reached them, which forced Congress to fund the ship's restoration and conversion into a museum.
More from us: World's First Modern Submarine Identified In The English Channel
Over her lifetime, this highly regarded ship has been restored many times, with the most extensive restoration taking place in 1995, costing $12 million.
Since then, the ship has continued to educate the public and promote the Navy. Despite her year out from activities due to COVID-19, this historical ship is back and ready to teach future generations.