Lady Be Good was a USAAF B-24D liberator which had been bombing Naples on April 4 1943. It disappeared without a trace only to be found 15 years later in the Libyan Desert by a group of British oil explorers working for British Petroleum (BP).
Lady Be Good was part of group of twenty five B-24`s which were sent on a mission to bomb Naples Harbor in Italy. The first raid consisted of 12 planes and the second raid of 13 planes including Lady Be Good. After their mission they were supposed to get back to their bases in Libya. All the other planes returned safely, only Lady Be Good vanished without a trace.
During the mission, a desert storm forced nine planes to return to the base before even reaching Naples, while the other four continued. Due to obscured visibility, the four planes reached Naples but did not hit their primary target. Two planes were forced to drop their bombs into the Mediterranean Sea so that they would be able to return to their bases successfully, while the other two hit secondary targets with their bombs.
On its return trip, Lady Be Good`s automatic direction finder malfunctioned forcing it to go way past its base for about 2 hours. The nine crew members on learning that it had no fuel, parachuted out of the plane and it crash-landed in the Libyan Desert at the Calanshio Sand Sea. Various rescue crews went in search of the plane, but it was never found.
What happened to the nine crew members?
Eight of the crew members successfully parachuted to the ground and were able to locate each other through signal flares. However, one of the crew member`s parachute had malfunctioned and he died from the impact after hitting the ground. His name was Bombardier Lt. John Woravka.
The remaining crew members survived in the desert for eight days with only a single canteen of water among them. When their bodies were recovered 1960, 5 crew members were found together while the other three who appeared to have traveled Northwards to seek help were found a few kilometers from each other.
They were: Guy Shelley, "Rip" Ripslinger and Vernon Moore. Guy Shelley was found 32 kilometers away while "Rip" Ripslinger was 43 kilometers further.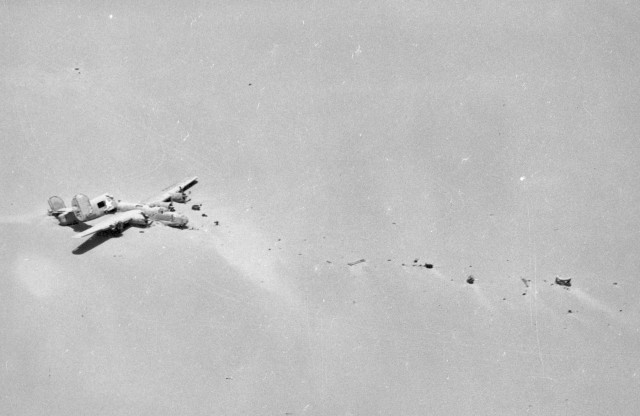 The remains of sergaent Vernon Moore have never been found. Apart from Lt. John Woravka who died after hitting the ground, all the other survivors died while trying to walk to safety. If the survivors had walked South instead of going North, they would have been found.
The other option was to have stayed where Lady Be Good had crash-landed and used the food and water supplies in the plane to stay alive. Since the radio was also in good condition, they could have made contact and it would have been only a matter of time before someone came to their rescue.
The wreckage of the Lady Be Good was first spotted in 1958 by British oil explorers but it was not until 1959 when a recovery team from Wheelus Air Base made a trip to the crash site. The plane had crashed on the desert sand on its belly and broken into two pieces.
Surprisingly, even after all those years most of its components were still in great condition. For instance, its machine guns were still functioning, there were food and water supplies inside the plane, its Radio was also in good condition and a thermos of drinkable tea was also found.
After recovery, most of the components of Lady Be Good were taken to the National Museum of the United States Air Force and are still preserved there up to date. Other parts were reused in planes belonging to the American military, namely: armrests, radio receiver, autosyn transmitters among others.
These three parts were used in different planes which would later experience technical difficulties, and two of them actually crashed. The one which reused the armrest from Lady Be Good crashed in the Gulf of Sidra and the one that reused the Radio Receiver crashed in the Mediterranean. One may think the reused parts had some sort of a bad omen.
The story of Lady Be Good has inspired several films, namely: Sole Survivor, King Nine Will Not Return which was an episode in the television series The Twilight Zone.
All images: Wikipedia