There have been three conscientious objectors who were awarded the Medal of Honor – the highest military honor in the US – without ever firing a weapon.
One of those men is Desmond Doss, who has had his story translated to the silver screen in "Hacksaw Ridge," a new movie directed by Mel Gibson. Andrew Garfield plays Doss who saved 75 lives in the Battle of Okinawa. Garfield has been nominated for a BAFTA for his portrayal of Doss.
The US allowed conscientious objectors during World War II to serve in noncombat roles; most worked as medics in the Army. This allowed them to serve without carrying a weapon. Doss was a Seventh Day Adventist who was drafted in April 1942. After receiving the status of conscientious objector, he enrolled as a medic in the 77th Infantry Division.
Doss was harassed by the other soldiers, and his commanding officer tried to get him discharged with a Section-8 (meaning he was mentally unfit for service). Doss refused the discharge stating that he felt he would be a poor Christian if he accepted a discharge that implied he was mentally unstable due to his religion.
In 1944, Doss got his first taste of combat. He served in Guam and Leyte in the Philippines – receiving the Bronze Star for his actions. The movie focuses on Doss's time in Okinawa. Doss prayed and then the 77th captured the 400-foot Maeda Escarpment without any deaths and only one minor injury. When asked how they did it, the soldiers replied, "Doss prayed!"
On May 5th, the Japanese countered and drove the Americans off of the escarpment. 75 injured soldiers were left behind.
Private Doss stayed behind with the wounded. In the constant enemy fire, he treated the injured and then carried them to the edge of the escarpment and lowered them, one at a time, on a litter. He continued his rescue efforts for two weeks without injury. Finally, a grenade sprayed him with shrapnel. Doss continued for five more hours in spite of his injuries.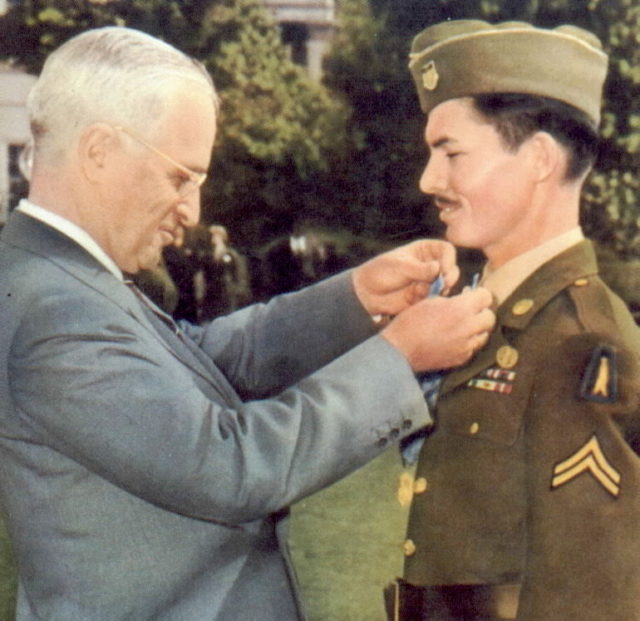 The citation on his Medal of Honor gives him credit for saving 75 lives that day. The medal was presented to him by President Harry S. Truman on October 12, 1945.
There were two conscientious objectors to receive the Medal of Honor in the Vietnam War. Thomas W. Bennett and Joseph G. LaPointe both had religious convictions that led to them serving as medics in the field. Neither survived the war, though.
Bennett's platoon was ambushed and everyone dove for cover except Bennett who went to help the injured. He aided the wounded under near-constant fire for over a day before getting shot rushing to a platoon of injured soldiers.
LaPointe was assigned to the 101st Airborn Division. While on a combat helicopter assault mission, he crawled through enemy fire to aid two injured soldiers, covering them with his own body to protect them.
LaPointe was repeatedly shot and knocked down, but he never left the two soldiers he was assisting. A grenade killed all three before LaPointe could stabilize the soldiers and move them to safety, The Independent reported.
The two men received their medals posthumously. Bennett's was awarded in 1970 and LaPointe's in 1971.
https://www.youtube.com/watch?v=8g5mQ69ROvo