US Senator Howard Cannon who died recently has found to have played a crucial role as a paratrooper in the D-Day invasion of France during World War Two.
Senator Howard Cannon was a 1st Lieutenant at the time of the D-Day invasion and he co-piloted a C-47 transport plane to take hundreds of paratroopers to France and drop them behind enemy lines. Meanwhile thousands of Allied troops made a land invasion onto the beaches of Normandy.
Nancy Downey, Howard's daughter will be flying to France in June to take part in commemoration ceremonies and make a dedication to the D-Day paratroopers in the World War Two museum near the D-Day beaches. A new section of the D-Day Paratroopers Historical Centrein Normandy will be opened and will include the restored C-47 Stoy Hora, the pilot's log book and other items from the aircraft. In addition, a flight simulator is being installed to give visitors a taste of flying in the aircraft.
The famous C-47 which Howard co-piloted was one of the largest transporters of its time, and is currently being loving restored. The aircraft is nicknamed the Stoy Hora. It was flown by the 440th Troop Carrier Group commander Colonel Frank Krebs and Howard was his co-pilot. They led a 45 ship formation of C-47s to drop the paratroopers into France the night before the land invasion took place.
It is hoped that once restored the aircraft will be put on display at the Howard Cannon Aviation Museum at McCarran International Airport.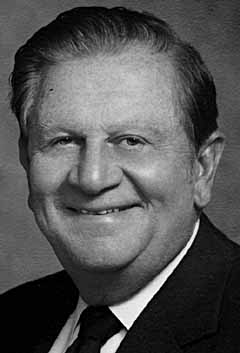 US Senator Howard Cannon [Via]
After the war, Howard became Clark County District Attorney and US Senator for Nevada. He served from 1958 until 1982.
Howard also continued in the US Air Force Reserve making it to the rank of Major General, the Las Vegas Review-Journal reports.
Howard was awarded France's highest military medal of honour, the Croix de Guerre just after VE Day in 1945, for his role in liberating France.
In another mission over the Netherlands and German later in 1944, Howard and Colonel Krebs were shot down. Both survived the crash, but had to live behind a wood pile in Holland for four days in order to hide from enemy troops. The Dutch resistance helped the two pilots and got them back to England after 42 days in enemy territory.
After the end of the war, Krebs and Cannon returned to Holland to take food and gifts to the Dutch resistance fighters who helped them to escape.