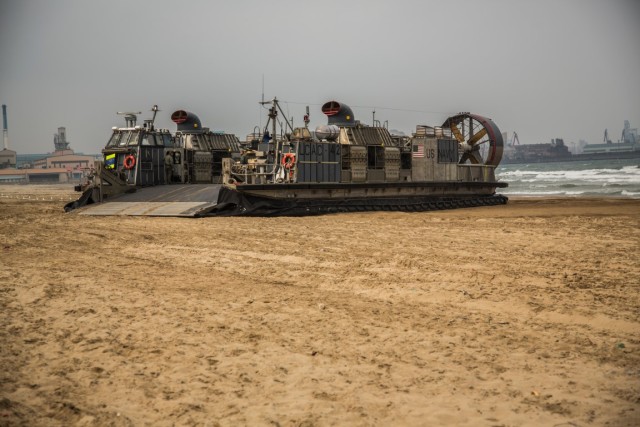 This eight-week-long round of joint exercises, in which roughly 17,000 U.S. and in excess of 300,000 South Korean troops practiced attacking North Korean beach defenses on the east coast, was in response to claims from Kim Jon-Un that North Korea is developing ballistic missiles.
As a direct result of the drills, North Korea has threatened an offensive strike, as Kim Jon-Un's military considers the exercises to be tantamount to nuclear war strategy. North Korea carried out its fourth nuclear test at the start of the year. That test and the follow up long-range rocket launch conducted a month later. This has led to the U.N. to introduce new sanctions on North Korea, and has renewed tensions on the Korean Peninsula.
The U.S. Navy released a statement detailing the strategy behind the joint exercises that took place on beaches near Pohang city and included approximately 55 U.S. Marine aircraft and 30 U.S. and South Korean ships capable of carrying AV-8B Harrier attack jets and V-22 Osprey aircrafts. The statement said that troops 'will penetrate notional enemy beach defenses, establish a beachhead, and rapidly transition forces and sustainment ashore.'
Both the South Korean and U.S. armies said that they had made North Korea aware that these exercises were not meant to be considered in any way provocative in nature. the threat of invasion by the North is real. In the past there have been many skirmishes involving South and North Korean armed forces.
But North Korea defiantly responded by performing drills of its own, following Kim Jon-Un's demands that the country must perfect its nuclear attack capability. Testing of large-caliber rocket launchers, which have only been recently developed, has already been conducted.
Kim Jon-Un is also claiming that the country has miniaturized nuclear warheads that are capable of being mounted onto ballistic missiles and this would allow North Korea  to target Tokyo and even Alaska.
According to a report by the KCNA news agency, the country's military has stated that it is more than prepared to strike the allied forces of the U.S. and South Korea and is merely waiting for an order from the Supreme Command to 'launch a preemptive strike of justice.'
Despite these threats the U.S. and South Korean militaries remain doubtful that North Korea can do more than threaten strike action and that the country continues to exaggerate its nuclear capabilities. The recent claims by North Korea that one of its submarines with ballistic missile launching capabilities went missing just off the east coast have been deemed by Western experts as questionable following the release of footage that looked suspiciously like it had been faked.
Video 1:
Video 2: