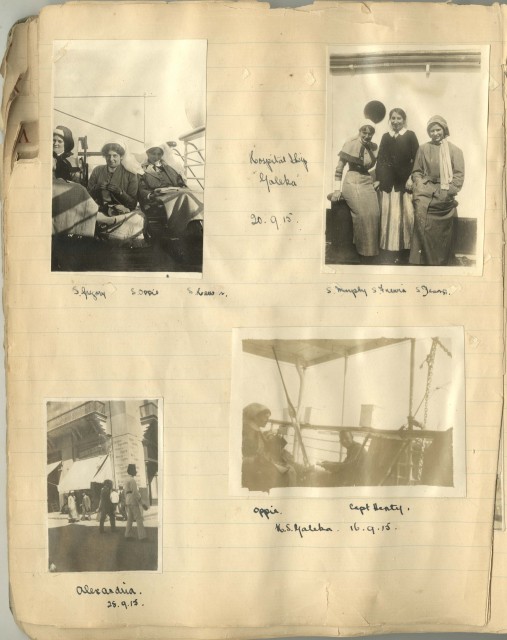 The unseen diary of a young nurse aboard the medical ships at Gallipoli has revealed new photographs depicting the everyday life of soldiers during the First World War. As they tried to distract themselves during their sea journey to war, the British soldiers were dressing up for different parts in theatre productions, were organizing sports days and sometimes were helping nurses during their training hours.
While some of the photographs show young soldiers on their way to their first war experience, others portray servicemen as they try to distract themselves from the horror of war, by playing games and doing other activities to remind them of home. Babes in the Wood and Charley's Aunt are just two of the productions captured by the nurse in her photographs.
In one photograph, for example, you can see a group of soldiers playing a game with the nurses. The British servicemen appear with blacked-up faces in a competition to see which nurse would be the first to wash off the soot and the grease.
Londoner, Florence Oppenheimer, aged 29, served on the Northland, HS Alaunia and HS Galeka from 1915 to 1917. She was assigned to medical ships after completing her training at the Royal Sussex Country Hospital. The diary reveals tales about the soldier's everyday life on the ships, about their fears, boredness and sometimes naivety about what the war really meant and what could happen to them once they get there.
One extract from the diary, dated July 20, 1915 reads about the first day aboard the ship leaving Devonport, England. The young nurse wrote that some of the officers looked quite young for their rank and she wondered how many of the 400 aboard the ship will ever come back. "The men are a cheery lot. They parade on our deck every morning for inspection and in the evening have a singsong on their own deck," she wrote. After dinner they would all get together and play games, The Telegraph reports.
Following the end of the war, Florence Oppenheimer became a well known writer of the Kosher Cookbook and changed her name to Greenberg after she married. She was mentioned in dispatches for "gallant and distinguished service in the field."
Curator Roz Currie said the diary shines new light on history, which was yet to be told through the voice of a nurse, instead of centering on the experiences of soldiers and life in the trenches. The unseen diary will go on display together with letters, medals and other personal testimonies, which will be exhibited in a new gallery entitled  'For King and Country?' and which will open on March 19.