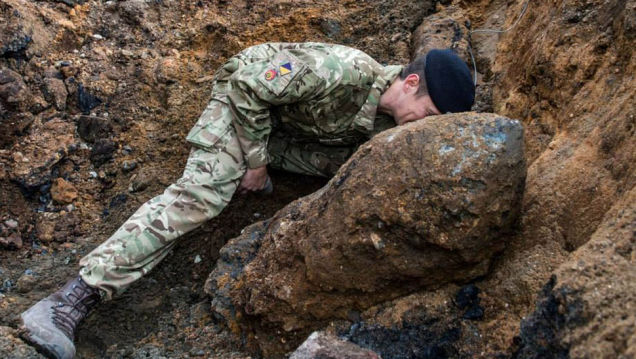 Last week a World War Two unexploded bomb was uncovered by workmen in the east-end of London at Bethnal Green. Prior to this latest find, hundreds have been discovered across the British capital as well as other towns around the UK.
The Ministry of Defence says that it responds to around 40 alerts a week for unexploded bombs.
Experts say that in general unexploded ordnance isn't a threat to safety. It is when they are impacted on, such as during building works or excavations that they become a threat. Some private firms offer a risk assessment for homes and offices across the city so that they can assess if there are any unexploded bombs in the area and if they there is a potential risk that they could explode.
East London, as well as areas in the west, was particularly heavily targeted by the Germans during the Blitz in the summer of 1940. Now these areas are experience mass regeneration so it is not surprising that the bombs are being uncovered. In addition, modern architecture is digging deeper into the ground to reach further down for foundation requirements, particularly as buildings are getting taller.
In many European countries, building firms are legally bound to conduct a risk assessment before works even begin, no matter how small or big, domestic or corporate, the building works are. However this is not required in the UK.
While the bombs lay quiet and safe underground, it is just a knock from a spade or digger that can set it off. Many building firms go in without knowing what might be lying underneath the ground. The bombs can be as deep as 15 metres underneath the surface. As soon as a bomb is discovered, the bomb disposal squad are deployed to assess the bomb and make it safe.
During World War Two bombing raids, the bombs had around an 80-90% success rate, but that means that the remainder didn't explode on impact.
Some unexploded bombs in Kent were even found on the surface of the ground by walkers, The Guardian reports.
Experts believe the bombs will continue to be discovered for years to come, based on the government's register which logged the bombs dropping but not exploding at around 750. However many that have been uncovered were not even logged on the register, implying that the problem is far wider spreading.