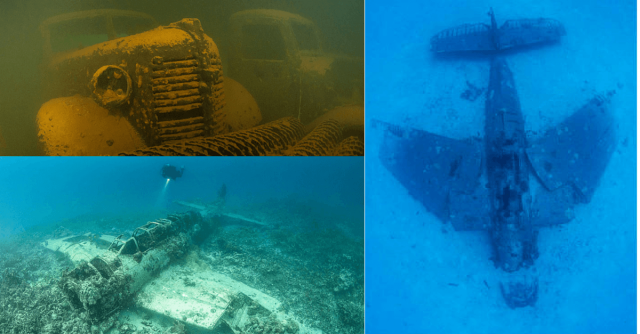 Deep sea divers in the Pacific Ocean have taken never before seen photographs of the wrecks of hundreds of World War Two planes, which crashed in the conflict.
Among the wrecks in the aircraft graveyard are a US Douglas SBD Dauntless dive bomber and a US F4U Corsair, which lie around 130 feet under the surface of the ocean.
The site is near the Marshall Islands and around five miles from Roi-Namur.
At the end of the war in the Pacific, many aircraft were simply pushed into the sea as they were no longer needed or were too badly damaged.
The US strategy in the Pacific was to island hop from own tiny island to the next as it advanced towards mainland Japan. A central part to this strategy was the use of air bombing raids to disable the occupying Japanese ground troops as much as possible before the US launched their ground attacks.
The underwater photographs show the planes bedazzle with coral and sea life, with thousands of fish using them as a home and safe haven.
Some of the planes lie on the sea bed, while others stick out of the sand in a vertical position. The majority of the planes have remained in one piece, with little damage to their structure.
https://youtube.com/watch?v=TWsjXwec_3s
Brandi Mueller, who is 31 and from Wisconsin in the US, took the photographs whilst on a scuba diving expedition in the area. She says the area is well-known as a graveyard for aircraft and most were simply dumped at the end of the war, so aren't war graves.
Brandi says she's drawn to the wrecks because they make the seascape so unique. Particularly since most wrecks are ships and not planes. She says it is a strange experience to see the planes under the water, when you are used to seeing them on the ground or in the sky.
Other Allied aircraft in the graveyard include Helldivers, the B-25 Mitchell, the Curtiss C-46 Commando and F4F Wildcats.
The planes were dumped over the side of aircraft carriers and transport vessels. There was a lot of activity around the Marshall Islands with almost 50,000 US troops stationed in the area. From there the US launched attacks on Guam and then made their way to the Japanese mainland, the Mail Online reports.
The Douglas SBD Dauntless is famous for being the aircraft that made the most impact on bombing raids over Japanese aircraft carriers during the Battle of Midway in 1942.