Two United States Navy missile destroyers expected to enter service in 2023, will be named after World War II Medal of Honor recipients. One was a 17-year-old when he protected his buddies from two grenades during one of the most famous battles in the history of war – the Battle of Iwo Jima.
The other commanded a company that beat the odds — and a bigger battalion.
Secretary of the Navy, Ray Mabus made the announcement on September 17 in Oxford, Miss., during an observance ceremony at Vaught–Hemingway Stadium.
One destroyer will be named for Jack H. Lucas, who at 17 was the youngest World War II service member awarded the Medal of Honour.
Lucas was lauded for heroism above and beyond the call of duty during the Battle of Iwo Jima.
Military records relate that Lucas put himself on top of one grenade and put another beneath his body in a trench during the infamous battle in 1945.
Lucas' heroic act, which he survived, prevented injury to three other Marines.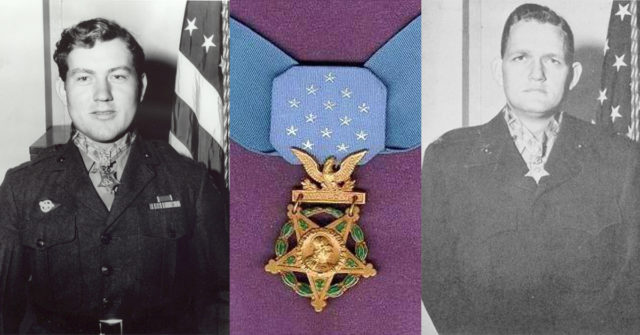 The other destroyer will be named the Louis H. Wilson Jr. During the assault on Guam in July of 1944, Wilson, then a Marine Corps captain, garnered the country's highest honour for heroism in combat when he and his company turned back and smashed a larger force.
Wilson, promoted to general on July 1, 1975, became the commanding officer of the Marine Corps. In that capacity, he constantly emphasized modernization of the post-Vietnam corps.
He insisted on responsiveness, force readiness, and mobility by keeping quick, effective mobile units.
Lucas, 80, passed away in 2008. Wilson, 85, died 11 years ago.
The ship to be named after Lucas will be built at the Huntington Ingalls Industries shipyard in Pascagoula, Miss.
The ship to be named after Wilson will be built by Bath Iron Works, a General Dynamics division, in Maine.
Each will be 509 feet long, and capable of operating at speeds over 30 knots, Daily News reported.
The Arleigh Burke-class destroyers will be able to fight air, surface and subsurface battles concurrently with a mixture of offensive and defensive weapon systems.
Arleigh Burke was a Navy admiral nicknamed "31 knot" for his management skills in the Second World War and the Korean War.