After Dan Snow, historian and presenter from The One Show, discovered that his great-grandmother, Lady Olwen Carey Evans, worked as a volunteer aid helping wounded British soldiers during WWI, he decided to share her story.
As a member of Voluntary Aid Detachments (VAD's), Lady Olwen, whose father was Prime Minister David Lloyd George, worked out of railway rest stations, caring for those who had been injured while battling on the Western Front.
She had been so affected by the experience that she had never shared the details with her family.
Snow became aware of his great-grandmother's heroism while visiting a new online archive containing information about volunteers who actively contributed during the war.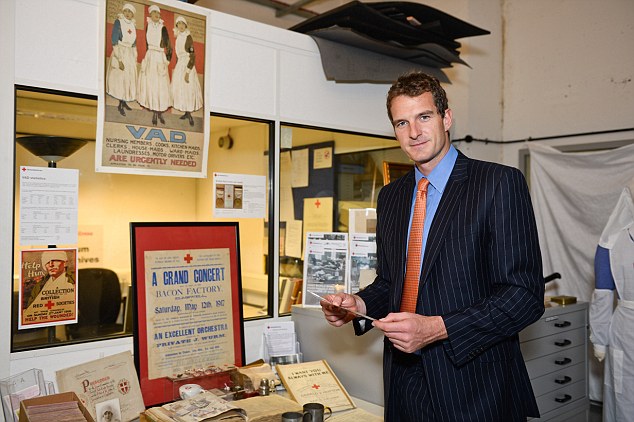 Snow is shown with Voluntary Aid Detachments items from WWI.
Snow had been aware that his great-grandmother had grown up in North Wales, and that she had attended the wedding of Prince William, who was a friend of hers.  But Snow had never heard about what she experienced while in France during the war, and the devastating things she must have witnessed while taking care of injured soldiers.
This is a clear example of how the war impacted so many people, including those who were not actively fighting.
Lady Olwen never shared her experiences with her family, but she did write them down.  Her memoir, entitled 'Lloyd George Was My Father' was published in 1985, five years prior to her death.
Lady Olwen was 22 to years old when the war started, and right away she started working as a VAD at a makeshift hospital in an old mansion.   Her father was Chancellor of the Exchequer at the time and had taken in three families of refugees from Belgium.
Her mother organized a committee called the Welsh Troops Comforts Fund, which was made up of a group of women who raised money for items that would be sent to the troops.  Lady Olwen moved to London to help.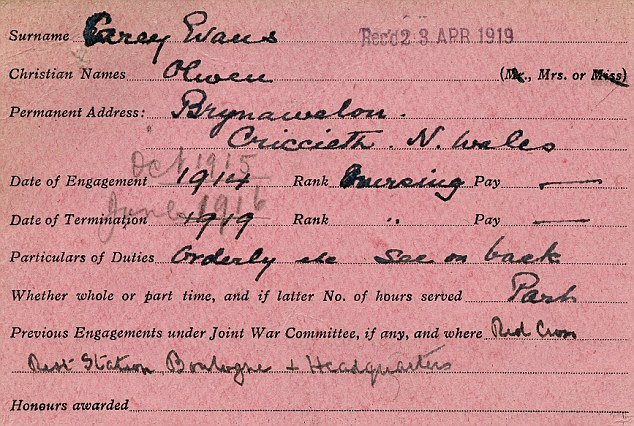 War records show Lady Olwen's time as a volunteer orderly.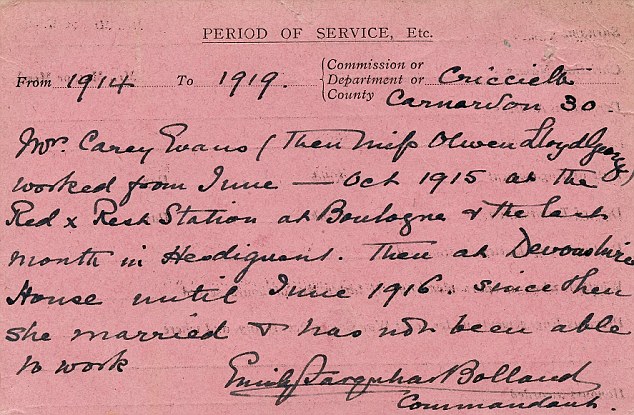 Lady Olwen volunteered from June-Oct, 1915 until she married and was not able to work.
The committee run by  Lady Olwen's mother received daily parcels that needed to be sorted before they were sent to the soldiers each week.  Her mother would often catch her father opening the parcels to see what was in them.
At the age of 23, Lady Olwen volunteered to work on the front lines with her friend, Dorothy, whose father, Sir Robert Hudson, ran the British Red Cross Society.  Part of her job was to clean the platform that was used for incoming patients coming off of the train.  The volunteers lived in a chalet beside the railroad.  Lady Olwen could hear men singing out front and the trains coming from and going to the Front.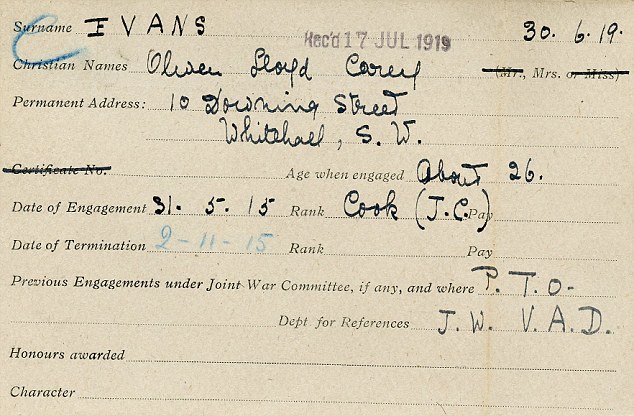 A war document from June, 1919 showing Lady Olwen's address.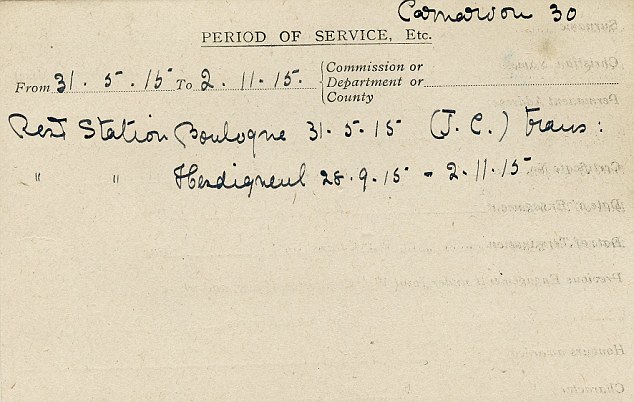 This paper shows Lady Olwen's stations as those at Hesdigneul and Boulogne.
Many of the wounded soldiers were brought to the rest stations from the trenches in order to receive treatment before being transferred to hospital.
After leaving Boulogne, Lady Olwen moved to a hut at a railway junction where she and the other volunteers gave cocoa and coffee to soldiers.  The men were often hurt badly and had their dressings changed at this stop before moving on.  Thousand of soldiers moved through this junction every day, and appreciated the help that was provided to them.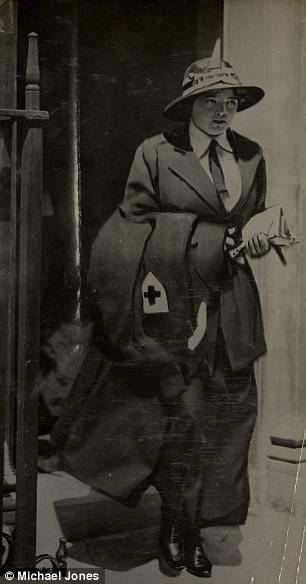 Lady Olwen working as a volunteer during the war
The volunteers work hard and usually spent any time off sleeping, although the young volunteers occasionally socialized with the soldiers, who they often only saw once.  Lady Olwen wrote that she really liked one young soldier, but that he was killed when he was only about 20 years old.
On November 11, 1915, which would become Armistice Day, Lady Olwen went home to Britain.  It was there that she later met Captain Thomas Carey Evans with the Indian Medical Service, who had won a Military Cross.  She had previously met the captain's father, a doctor in Wales.
When Lady Olwen and Tom met, the attraction was instant.  The two were married at London's Welsh Baptist Chapel in 1917, by which time her father had become Prime Minister.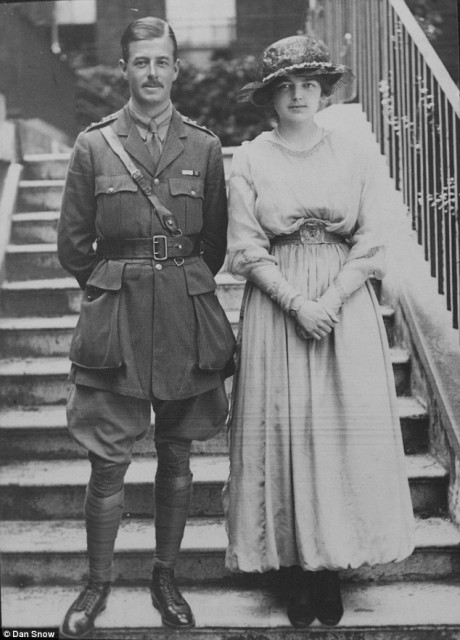 Lady Olwen with her husband, Tom, on their wedding day.
Shortly before the wedding, Tom went back to war.  When he was given leave and was on his way home, the enemy torpedoed the ship he was on.  Luckily he was not seriously hurt and the wedding was able to proceed as planned.
Dan and Lady Olwen
When the war was over, Lady Olwen and Tom moved to India, where Tom became a surgeon.  In 1924, he was knighted.  In 1945, after her father's death, the couple moved to North Wales.  Tom died two years later, the Mail Online reports.
Dan never had the opportunity to meet his great-grandfather (great taid), and was only 11 when his great nain passed away on March 2, 1990.  Lady Olwen was 97 years.
Dan has fond memories of staying with his great-grandmother with his family as a child.  They would leave on a Friday on the train, fall asleep, and be there when they woke up.
He remembers eating the best ice cream, drinking tea, and the amazing surroundings.  He enjoyed driving in the front seat of his great main's car on the North Wales hills and having wonderful conversations, including those about her late husband, who she was very proud of.
Dan does not recall her ever mentioning the war.
Dan feels very welcomed when in North Wales.  In 1969, his great-grandmother was named as a Dame Commander of the British Empire and was known by everyone.  As a child, he was amazed when when a stranger would address her by name.  While in the area recently, a waiter told Dan that his great-grandmother is missed.
Dan believes that he inherited his great nain's love of history.  She had given him history books as a child and it has been a great interest of his ever since.  Lady Olwen was a wonderful storyteller who was very proud of her parents and other family members.
Dan's wife reminds him of his great nain and of his mother, a strong, impressive woman.  His daughter reminds him of all of them.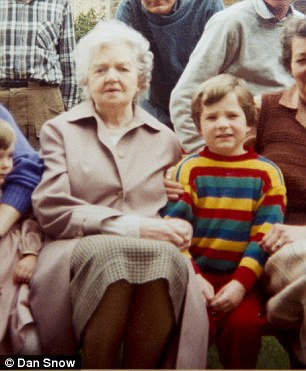 Dan and Lady Olwen in 1983.
The Red Cross online database (www.redcross.org.uk/ww1) was launched to commemorate the 100 year anniversary of its involvement in assisting with the war effort.