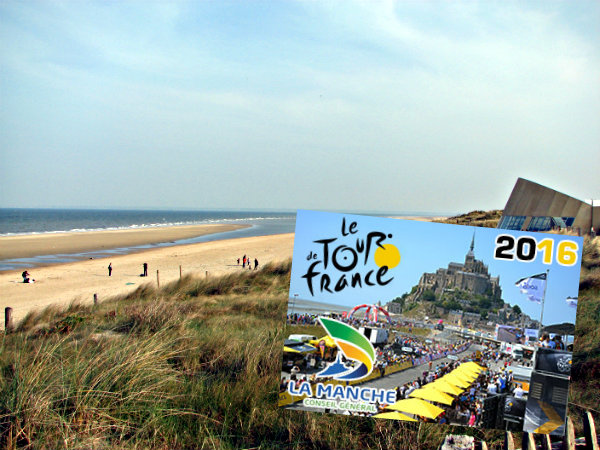 D-Day's Utah Beach will be one of the spots in route of the Tour de France this coming 2016.
Mont-Saint-Michel, one of the most famous tourist spots in the country, will be the starting point for the Tour de France in 2016. The event will start kicking at the foot of the gothic-styled abbey on the  2nd of July that said year. It will, then, go on a 188-kilometern stage going to one of the landing beaches during the Second World War, D-Day's Utah Beach.
Finally, the second stage of the Tour de France 2016 will follow the route from Saint-Lo to Cherbourg-Octeville which runs for about 182 kilometers.
On the other hand, next year's race will take place in the Dutch city of Utrecht.
According to race director Christian Prudhomme, the Manche is a breathtaking place to do the Tour de France and it offers various terrains. The Utah Beach will be good for sprinters while the hills just above Cherbourg-Octeville will be the highlight for the punchers.
Furthermore, Mont-Saint-Michel is a majestic background for the racers' first leg.
The Manche, which is in the northwestern part of France, has hosted Tour de France for 23 times now — starting in 1911 until 2013.
For the 2016 Tour de France, riders will have to do without any prologue. They will be thrust fully to a mêlée of roads which are exposed directly to winds. Breakaway riders will have the advantage on this one, though, the first stage, set to occur in D-Day's Utah beach, will prove to be an advantage for the sprinters as its profile is flat.
Additionally, team leaders will have to look out for the second stage as the route features a climb up for up to three kilometers with a fourteen percent grade section heading to Cote de la Glacerie's summit for the finale. Finally, its third stage will have its starting point at the Granville seaside resort.
The rest of the route for the Tour de France in 2016 will be announced fully in October next year when the official race presentation will take place.
For the meantime, next year's cycling event will start on July  4 and will have a time trial of 14 kilometers.