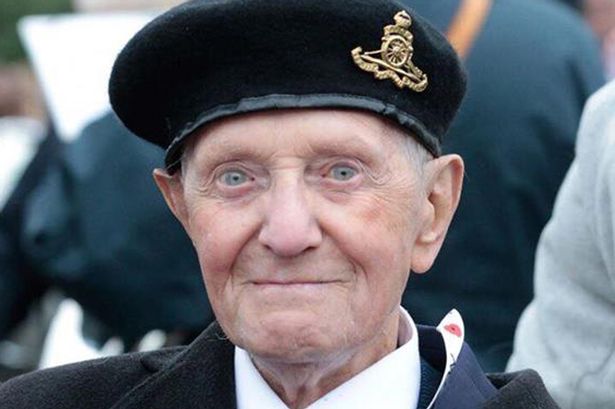 This is the face of 92-year old Harry Thrush, who lived in Robin Hood, Leeds and passed away peacefully on Christmas Eve last year.
Mr Thrush was conscripted at age 18 in 1942, and he served as a gunner with the 7th Mountain Regiment during World War II.  From an early age, Harry showed uncommon compassion for his fellow soldiers; the deaths of many men around him during his service near Salerno, Italy affected him deeply.
After the war, Harry could not forget the ultimate sacrifice made by so many men, and he believed strongly that a fellow serviceman should attend their funerals – to pay respects and signal appreciation for the soldier's service to his country.  For the ten years before his death, Harry would attend the funeral of servicemen killed in action.
Mr Thrush's daughter, Janet Farr, exclusively told the Mirror Online: "My dad used to go to the funerals of young soldiers who had been repatriated from Afghanistan and Iraq.  He would watch TV news reports and make a note, or look in the paper and highlight the news of a young soldier's death.
And then he'd get up and go to the funeral.  Even at his age, he would just leave a note saying he'd gone here or there.  One of the funerals he attended was that of Jake Hartley, who was one of the youngest soldiers killed at 20 years old."
After attending a funeral, Harry made a point of visiting the relatives of the dead serviceman to offer what comfort he could.
He and his wife were lifelong supporters of Leeds Football Club and could regularly be found at Elland Road.  Harry sold fundraising tickets for the club every week, many years ago.
In line with his pride at serving his country, Harry always attended war memorial services and functions.  One special memory involves Harry singing "D-Day Dodgers" with Paul and Natasha Harper at all the functions that he attended.
The extent of the respect that Harry had for serving members of the armed services, and the respect they had for him, was evident when he received a birthday photograph from Afghanistan.  The photo, organized by Harry's son's partner, Joanne Holmes, showed Camp Bastion with dozens of smiling British servicemen in uniform.
The salutation on the photograph read, "FAO Gunner Thrush, of 7th Mountain Regiment, Salerno War veteran. Happy 90th birthday. Have a wonderful birthday night celebration. We and all the trauma team and soldiers out in Afghanistan send our best wishes. We have the utmost respect for you and many thanks for your service. Best wishes, Role 3 Hospital Doctors, Camp Bastion, Afghanistan." This photo was one of Harry's treasured possessions.
Harry and his daughter, Ms Farr, attended the Victory in Europe (VE) 70th-anniversary celebrations at Westminster, where Harry was charmed to have met Prince Charles and the Duchess of Cornwall.
Ms Farr and her brothers would like to give their father the send-off that he dreamed of.  He wanted his coffin draped in the Union Jack and placed on a carriage pulled by black horses, with soldiers and war veterans in attendance.
The family has contacted the Royal Artillery Association in Wakefield to ask if they would attend, and Ms Farr has already received many messages of condolence from veterans across Yorkshire, who indicate they will attend if possible.  The Army Recruitment Centre in Leeds will bring eight servicemen to pay respects to Harry on Wednesday.
The funeral will be held on Wednesday the 13th January 2016, with the procession leaving Harry's home in Robin Hood to travel to St. Mary's Parish Church in Beeston, Leeds where the official service will start at 12:45 p.m.  Following the service, there will be a wake held in a suite at Harry's favourite foot club stadium, Elland Road, where his singing partners, Paul and Natasha Harper, will entertain.
All those that would like to pay their respects to this proud veteran of World War II – this compassionate and thoughtful man who loved his family, his country, and the servicemen that served her so faithfully – are welcome to attend both the service and the wake.  Harry would be thrilled to have any and all servicemen attend his great send-off.