Even during a war, special things can happen. For 80-year-old Mary Crabb, she was once part of a WWII miracle, thanks to three Canadian soldiers. She was abandoned as a baby and was eventually adopted by loving parents, however, she has spent most of her life in the dark about who her birth parents were, and who saved her.
Crabb learned of her adoption when she was seven years of age, but her adoptive parents weren't able to give her much information surrounding her abandonment. For most of her life, she simply assumed that she was another run-of-the-mill adoption case.
She had often wondered who her parents were, but never looked into it because she has "had such a lovely life."
But after the death of her adoptive parents, Crabb, with the help of her family, began searching for answers. She would come to learn that her entrance into the world was anything but run of the mill.
Crabb's abandonment and discovery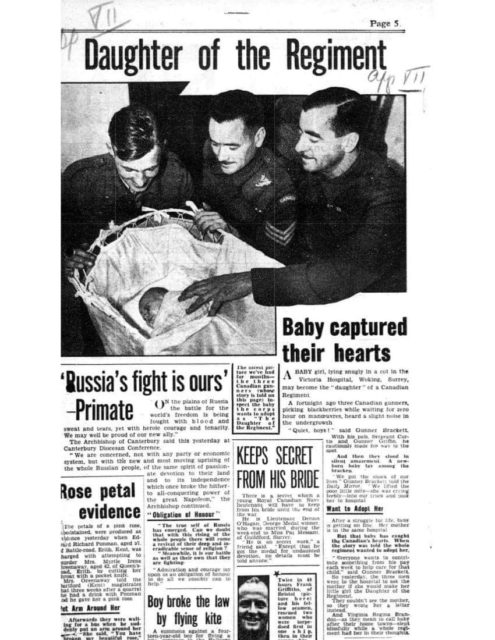 Crabb was born on September 23 1941 in Woking, near London. Immediately after birth Crabb was abandoned. She was left unwrapped under blackberry bushes in a park in Surrey. The lone newborn's cries drew the attention of three Royal Canadian Artillery troops on exercise in the area. They heard her squeaks but at first, believed the noises were coming from a chicken.
The noises persisted so the men decided to investigate. Approaching the sound, they discovered a baby – blue and near death in the bushes. The soldiers acted fast, cutting her umbilical cord with a pocket knife and wrapping her up in a shirt to keep her warm. They took the baby to a military vehicle close by and drove her to Victoria Hospital.
At the hospital, the baby was cared for, but doctors doubted she would survive as she was dangerously cold. But the baby pulled through and was adopted by Mabel and Hubert Sheppard five months later. The pair named the baby Mary and took her back to Hertfordshire. Thanks to the actions of the Canadian soldiers, Mary was given a chance to live.
Mary became aware of this later in life but had absolutely no idea who her mystery saviors were.
At the time the miracle was featured in the Mirror and newspapers back in the soldier's hometowns, but, like many incredible stories from the war, it was soon forgotten about. The men who saved her were extremely fond of the strong little baby and even donated their own wages to ensure she got a good start in life.
Crabb's mother was 29 year old Lilian Williams, a Land Girl who kept her pregnancy a secret to keep her job in the Land Army. She went into labor whilst cycling home from work one evening and gave birth behind some trees. She was unsure what to do with the baby and decided to abandon it. She later pled guilty to abandoning the baby and was sentenced to two years of probation.
As for Crabb's father? He was Frederick Elliot, a married father of three in the Army. Records show he opted to pay towards Crabb's upbringing. Because of this discovery, Crabb learned she has three half brothers and extended family from both of her birth parents.
Finding her saviors
It was during Crabb and her family's search for her mother that they stumbled across an old photo of Crabb and her three saviors. The men in the photo were Gunner Brackett, Ernie Curtis, and Bob Griffin.
Amazingly, the story reached Ernie's son; Harry Curtis, who is 71 and lives in Ontario, Canada. Curtis' father sadly passed away in 1995 but had spoken about rescuing a baby during the war many times and spent the rest of his life wondering about what happened to her.
Curtis and Crabb first met via a video call in 2019. After years of wondering, Curtis said "You have no idea the flood of emotion I feel seeing Mary and finally knowing the outcome."
The two have since formed a strong bond, with Curtis sending Crabb his father's lapels as a way for her to be connected to him.
With these incredible discoveries, one thing still remains a mystery: what happened to her birth mother.
Crabb managed to meet her mother's relatives after finding her birth certificate, but none of them heard from Lilian again after 1952. No death certificate exists in her name.
Regardless, after searching for answers about her earliest years, Crabb has formed relationships for life. Curtis said Ernie's sister Jessie shared his bond for the mystery baby as much as Ernie did, and if she could have brought her to Canada she would have adopted her.
"She could have grown up alongside me, as a part of our family," Curtis said.