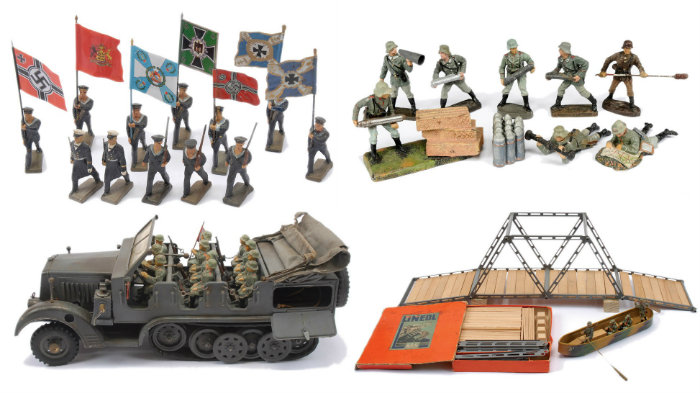 The Thornaby-based Vectis Toy and Collectibles Auctions held an auction of WWII Nazi toys Wednesday, March 25. Hundreds of Nazi figures went down under the gavel in lots with some having the expected amount of as much as £7,000.
Prior to their sale, military catalouger Simon Clark spent some three months just to divide these WWII Nazi toys into lots that numbered to two hundred and fifty. Aside from these sold just recently, hundreds of these WWII Nazi toys had already been sold last year.
All of these WWII Nazi toys came from the toy collection of the late Richard Wilkinson, an American who, throughout his entire life, bought and collected German trinkets after his father first got him his first from a business trip way back in the 1930s.
Mr. Clark admits that he knows selling these WWII Nazi toys are very controversial and that many may find the playthings abhorrent and offensive. However, the catalouger points out that they are important as they are part the world's history.
"They may certainly be from an unpalatable period but we cannot just take out and keep the pieces of history that we like, it doesn't matter if it's nice history or not, it still needs to be remembered," he states.
He further adds that Vectis is not glorifying that part of history, they are just presenting it as it is.
The WWII Nazi toys from the late Wilkinson's collection were made by two companies — the Elastolin Hausser and Lineol. The trinkets themselves were made from sawdust and resin molded around a metal frame, sawdust and resin being a revolutionary composite material in those times.
The unconventional material they're made out of makes these WWII Nazi toys rare and more difficult to find. The damp could result to the swelling of the metal frames within the figures which could result to the cracking of the blended exterior.
However, the WWII Nazi toys were highly engineered creations — the larger guns of the models have the capability to fire, the rifles of the soldiers could release puffs of smokes, the trucks had their very own mini jacks and Lineol even went to manufacture a remote-controlled tank.
According to Mr. Clark, the WWII Nazi toys were built to look as exact replicas of the real thing with the vehicles and the guns really looking very similar to the authentic ones. These features add up to the historical interest in the WWII Nazi toys as they are representations of that era.
On the other hand, Malcolm Fisher of Regimentals, one of UK's biggest militaria dealers, is quite sure the Vectis acution of WWII Nazi toys will attract genuine toy collectors and not people who he termed as "cranks".
"Nazi cranks go to websites run by other cranks and buy things like T-shirts. Those interested in these highly desirable items will be genuine toy collectors and specialists – they are after all made of glue and sawdust," he says.
But he also added that though the WWII Nazi toys have high price estimates, the lots could actually sell for a much lower price than their estimates as, according to him, the antiques market is generally struggling. Furthermore, he points out that there might not be many individuals in the new generation who grew up interested in with the certain period of history these WWII Nazi toys came from.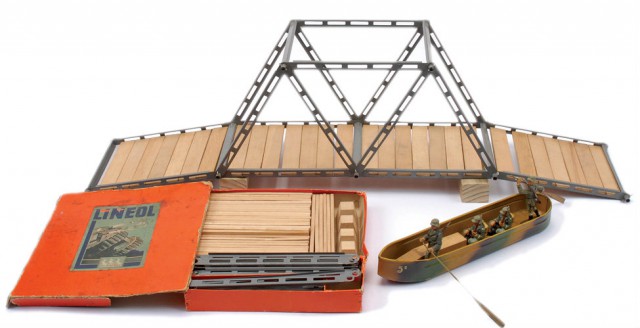 So far, the most expensive lot among the WWII Nazi toys is the Lineol bridge [Lot 4175]. When it was sold during the WWII-era, it was priced at around 900 Reichsmarks which was roughly the equivalent of one week's wages. To date, it is valued at between £5,000 and £7,000.
Mr. Clark relates how only few of the Bridge models were manufactured. It was not only expensive in those times, the piece was also a "bit boring" since children wanted to play with tanks and soldiers and not with building bridges.
The Hitler figures, meanwhile, have values that go between £35 and £70 each. In the 1930s, they would have been sold at five to 15 reichsmarks each.
When asked if the WWII Nazi toys were manufactured to entertain kids or ingrain in them the ideals of Nazism, Mr. Clark answered that both were actually the trinkets' purposes.
The adverts for the toys were of Rudolf Hess, a high-ranking Nazi official, and his son playing with an artillery gun trinket. There were pictures of Nazi VIPs visiting and touring the toy factories. Even the German Fuehrer himself had a say in how these playthings were made.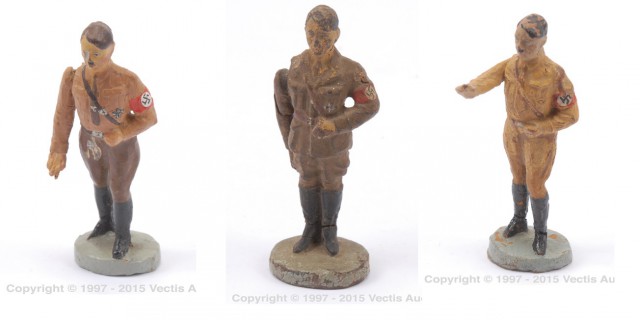 "Hitler did not like the toy made of him," Mr. Clark says. "He did not like the faces of his figures. So, what he did is he had the toy companies hire doll makers to make the heads of his figures from porcelain. These porcelain heads bore a more similar likeness to him."
Over twenty different versions of Hitler figures were manufactured. Each had a different uniform painted on. But majority of these Hitler figures had one thing in common — the right arm could be raised to give the infamous Nazi salute.
Mr. Clark summed up the whole WWII Nazi toys collection as "unusual" and not an everyday occurrence. He expects interest into the lots will be high especially among US toy collectors.