Being in the US Navy and assigned to work on a submarine is not an easy life. For months, men live in a metal container deep under the ocean, along with explosives, flammable materials and, possibly, nuclear missiles. When America is at peace, there is the chance of a deadly accident. When at war, ships and aircraft hunt them down.
But they eat well.
In 2004, the book Submarine Cuisine was published after it was commissioned by the Submarine Research Center, US Naval Base Bangor, Washington. It covers submarine living back to WWII, with an emphasis on cooking. It also gives readers a chance to look into what it is like to work as a cook on a submarine and goes into detail about how food is loaded onto a sub, then stored and prepared. It even describes the meals that crews ate.
The authors researched submarines back to the USS Hardhead and USS Bluegill, (both launched in 1943) and the USS Blenny (launched in 1944). They also received contributions from sailors on modern subs such as the USS Alabama (launched in 1984).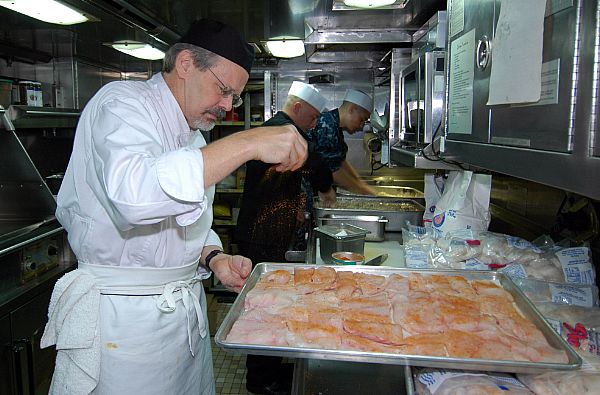 Modern submariners are fed three meals a day for the entirety of their patrol. Some of those patrols can last for months, with no chance of getting more supplies during that time. Sysco provides the food for submarines based on the east coast. West coast submarines get their food from King's Bay. Fast attack subs get their food lowered one box at a time. Ballistic missile submarines, on the other hand, have six foot by five-foot containers loaded by crane.
Included in the book are recipes for making sauces, creamed eggs, corned beef and cabbage, ginger pot roast, navy bean soup and Maryland-style fried chicken. There are also recipes for desserts like cherry pie, rice pudding, and baked apples.
The focus is on a cook's place on board the submarine. It is one of the more service-oriented jobs on a US Navy submarine. They must cook, clean, stay on schedule, and keep to a monthly budget. It is essential for them to keep their area spotless. When it is not mealtime, the area is used for training.
Early subs had even tighter space constraints. Sailors ate while sitting on their bunks because there was no mess area. Food at that time was required only to provide subsistence.
Later subs included space for one-third of their crew to eat at a time. The men were on four-hour schedules – one-third could eat while another third was on watch, and the remaining third had just finished.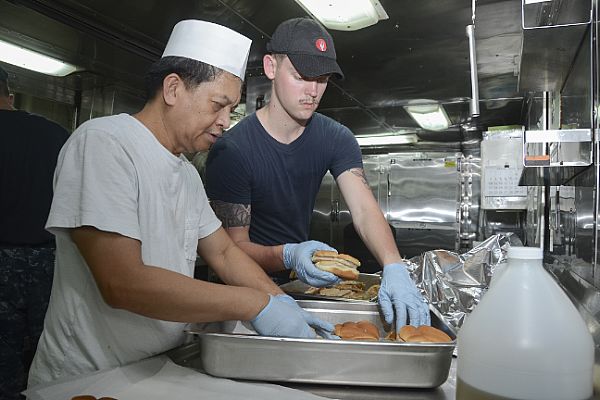 Modern submarines now offer a diverse menu to their crew at mealtimes. The men have fifteen to twenty minutes to eat and then need to make way for others.
Throughout the history of US Naval submarines, the cook has been of prime importance in keeping up the crew's morale. A captain is happy when his crew is happy, and the best way of keeping them happy is by keeping them well fed.
For a cook on a submarine, time was their master. As only a third of the crew could fit into the mess, meals had to be on time to get everyone fed. With each shift taking approximately half an hour to eat, plus those who missed their allocated time, feeding everyone took about two hours for each meal.
Additionally, the mess area was used for training sessions and movie nights so had to be kept scrupulously clean. The cooks' time was very regimented and needed to be carefully managed.
US Navy submariners rarely discuss what happens on their subs, which makes Submarine Cuisine a fascinating peek into their world below the surface.