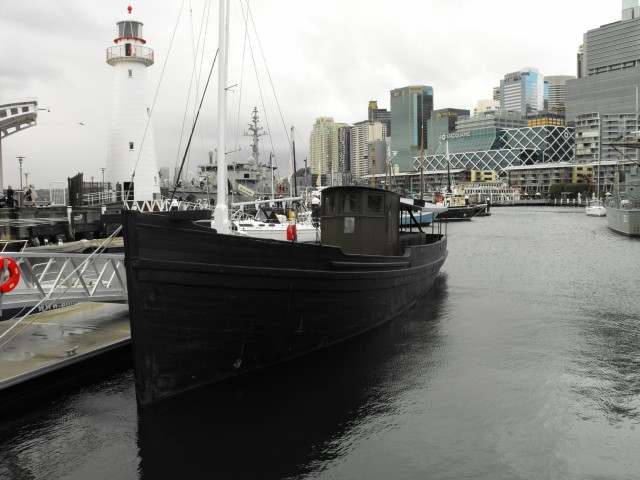 The deceptive appearance of an old Japanese fishing trawler, kept moored at the Darling Harbour in Sydney, is hiding a great wartime story associated with it.
During the Second World War, this old trawler, known as MV Krait, played a crucial role in a secret campaign organised by British intelligence Services. This campaign laid the foundation stone for 'Special Operations Australia'. The unit that took part in this mission was named 'Z Special Unit'.
During the war, no one knew about this daring adventure and its success. It was only after the war that details about the mission and MV Krait were revealed to the public. The operation was codenamed 'Jaywick' and involved 14 special operatives. They carried out a bombing mission on enemy territory, while sailing thousands of kilometres through enemy-controlled waters.
In 1942 Japan took control of Singapore, after British forces surrendered the territory. Scores of civilians fled the island on ships, trawlers and whatever else they could find.
An Australian mariner, Bill Reynolds, was conducting his own rescue missions on an old Japanese fishing boat name Kofuku Maru. Reynolds had previously discovered that the Japanese were not shelling his trawler for some strange reason. He decided to help some people fleeing the enemy territory, using his old trawler. During his trips, Reynolds met Ivan Lyon, who was a British Special Operative. Lyon convinced Reynolds to use Kofuku Maru to get back to enemy territory and conduct a stealth bombing mission. This was the moment that some historians refer to as the 'genesis of Jaywick'.
The crew had planned to operate under the enemy's nose, with careful manoeuvring, disguising, dressing like local fishermen and flying the Japanese flag on their ship.
Six men on board three foldboats, a sort of foldable canoe, were dropped 30 kilometers from the Singapore harbour. From there onwards, Operation Jaywick entered its most crucial and dangerous phase. The crew spent days and nights advancing towards their targets, while staying under the enemy's radar,
the ABC News reports.
Sneaking in and out of enemy waters, the group managed to install mines and explode them on time. They were also successful in escaping from the island after the explosions. They then met the Krait, which was anxiously waiting for them in open waters.
The Krait had been on display in Sydney's Darling Harbour for a while now, and there was a need to preserve this historically significant ship. The Australian War Memorial and National Maritime Museum are collaborating, in order to facilitate the display of the Krait in an expansion to the Maritime Museum's Wharf 7.