The M10 tank destroyer was a World War II United States tank destroyer which was based on the chassis of the M4 Sherman tank, it was fitted with the 3-inch (76.2 mm) Gun M7. Formally called the "3-inch Gun Motor Carriage, M10", it was the most important U.S. tank destroyer of the second world war and it combined a reasonable adequate anti-tank weapon with a turreted platform.
Even tough more-powerful tank destroyers were introduced to replace it, it remained in service until the end of the war. The chassis was later reused with a new turret to create the M36 Jackson, which used a 90mm gun instead of the 76.2mm gun.
The British christened it the Wolverine, but unlike other vehicle names like the M4 Sherman, the American Soldiers did not adopt the name, who simply called it a TD (a nickname for any tank destroyer in general) beyond its formal designation.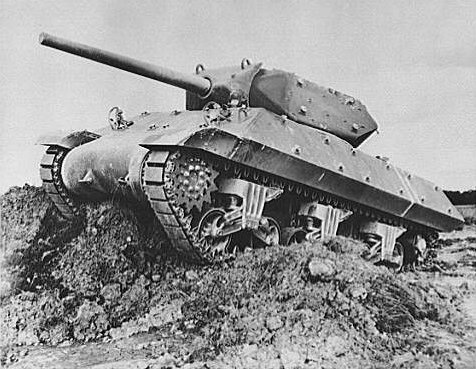 M10 tank destroyer on a training maneuver in the United States, Mar 1943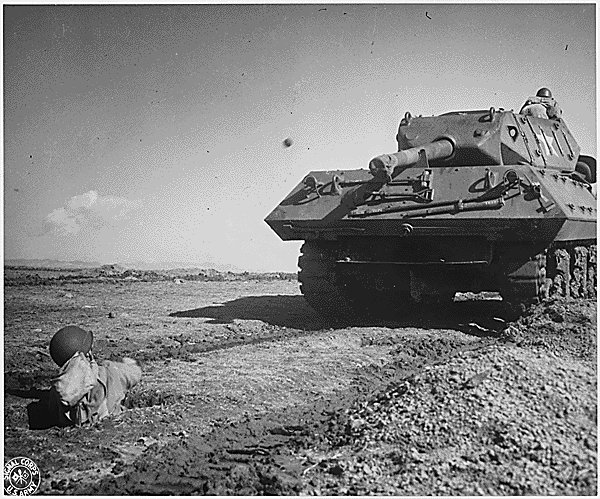 An US Army soldier practicing throwing a grenade from a foxhole toward a M10 tank destroyer, Camp Carson, Colorado, United States, 24 Apr 1943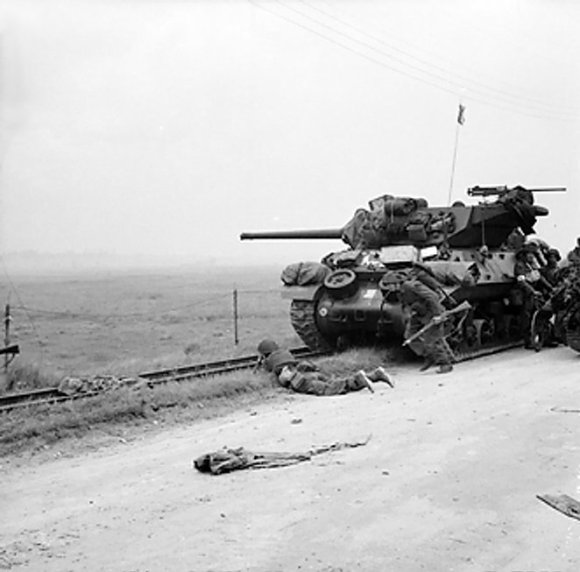 British troops taking shelter near a M10 Wolverine tank destroyer, Normandy, France, 6 Jun 1944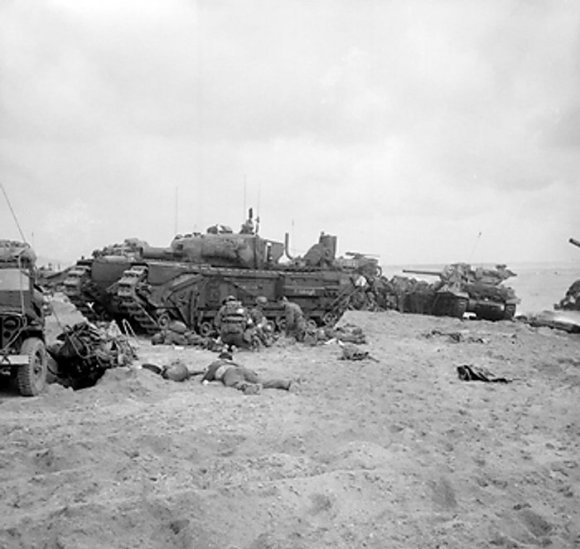 Medics tending the wounded by a Churchill AVRE vehicle of UK Royal Engineers 5th Assault Regiment, Sword Beach, Normandy, France, 6 Jun 1944; M10 Wolverine tank destroyer of 20th Anti-Tank Regiment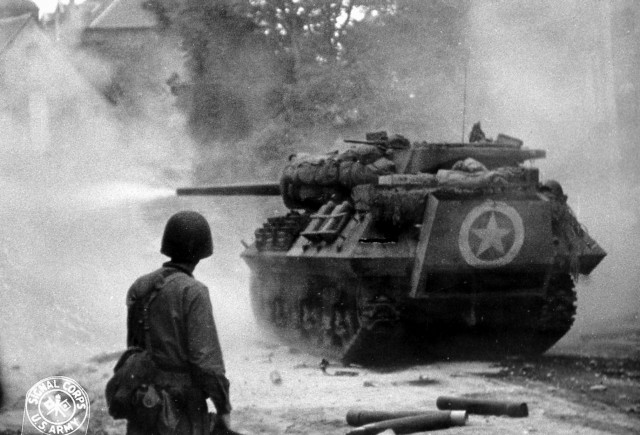 American M10 Wolverine tank destroyer firing near Saint-Lô, France, Jul 1944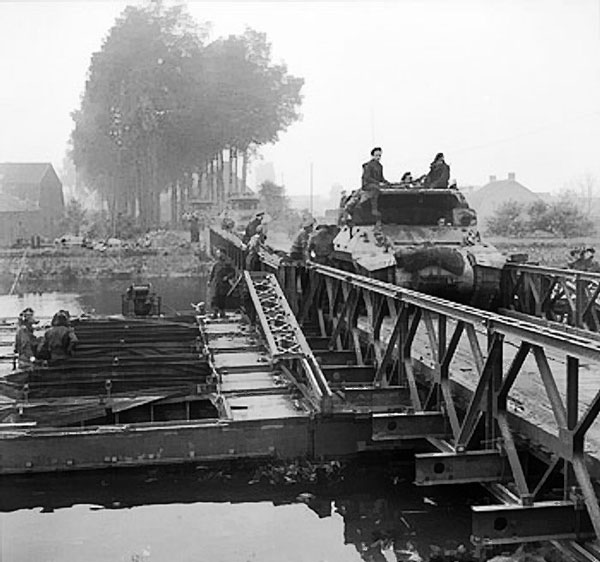 M10 Wolverine tank destroyers of 75th Anti-Tank Regiment Royal Artillery of British 11th Armoured Division crossing a Bailey bridge over the Meuse-Escaut (Maas-Schelde) Canal at Lille St Hubert, Belgium, 20 Sep 1944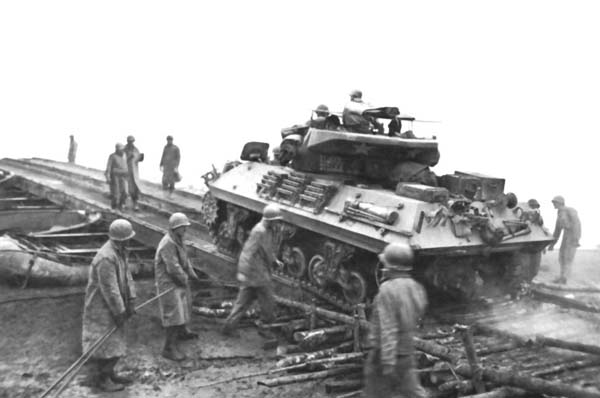 M10 Wolverine tank destroyer of US 773rd Tank Destroyer Battalion crossing the Saar River outside Dillingen, Germany, Dec 1944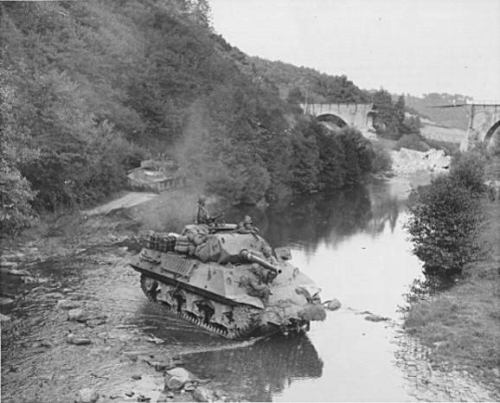 Two American M10 tank destroyers in France during World War II.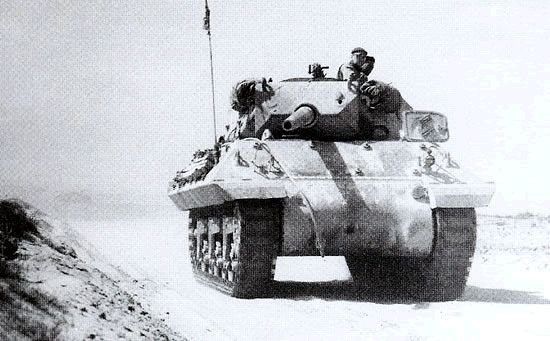 United States' M10 Gun Motor Carriage tank destroyer in North Africa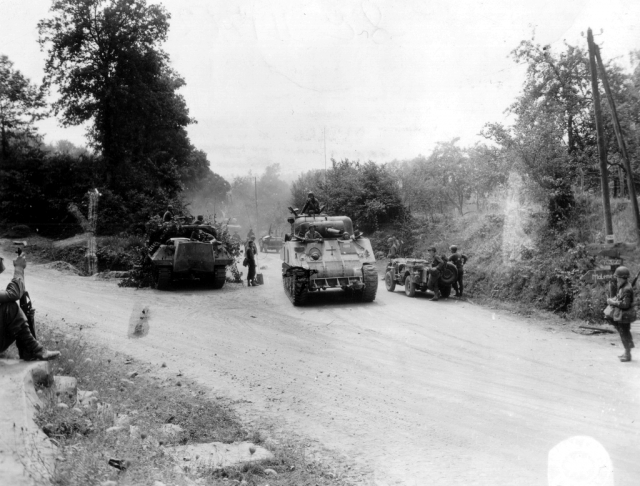 M10 3″ Gun Motor Carriage tank destroyer with the 702nd Tank Destroyer Battalion and a M4 Sherman with the 743rd Tank Battalion with a Culin hedgerow cutter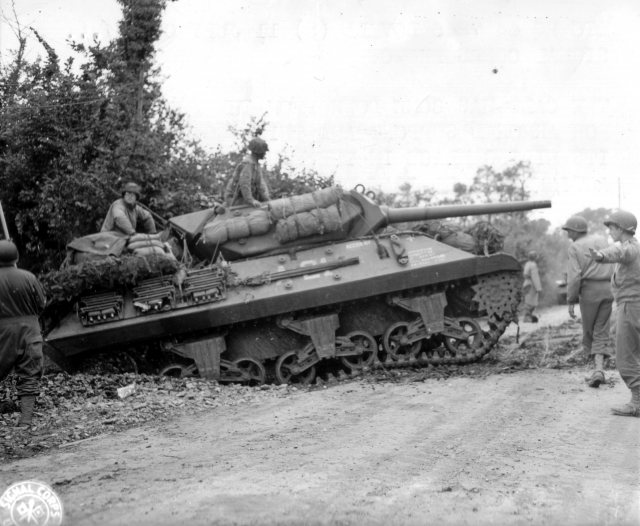 M10 3″ Gun Motor Carriage tank destroyer with the 899th Tank Destroyer Battalion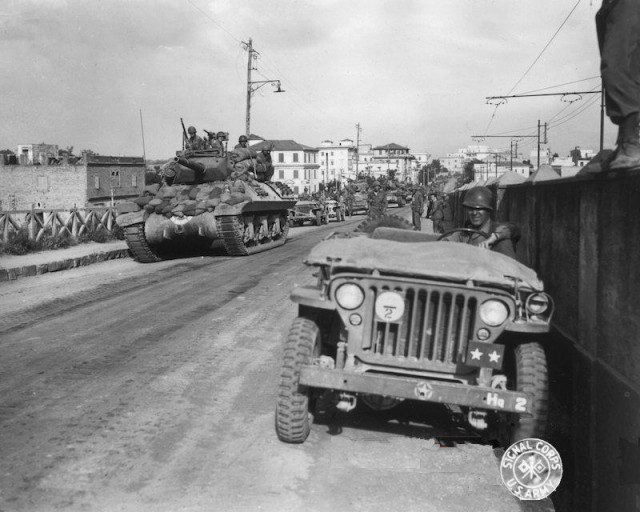 Fifth Army infantry patrol on M10 tank destroyer and jeeps cross bridge in Rome, Italy. 4 June 1944. Jeep of a two-star general is parked to the right.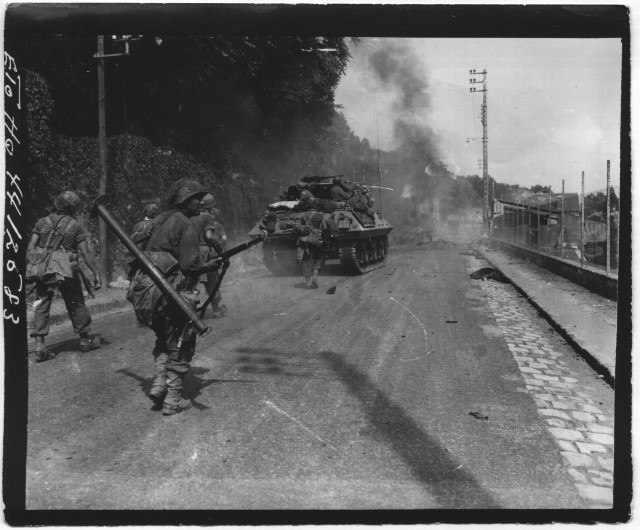 M10 Tank Destroyer of the 818th Tank Destroyer Bn., supports 5th Infantry Division troops, near Fountainebleau, France, 23 August 1944. Soldier in foreground is carrying a bazooka.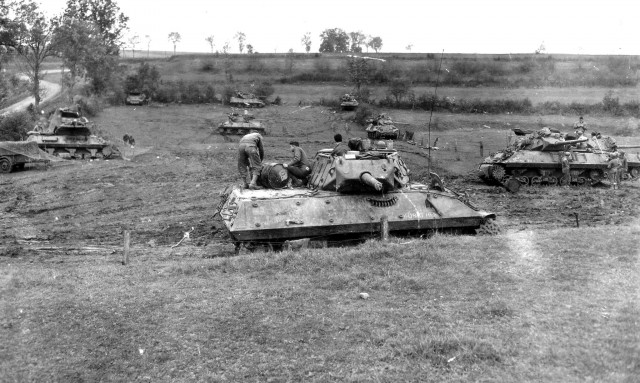 Refueling the M10 Wolverine in a Field in Normandy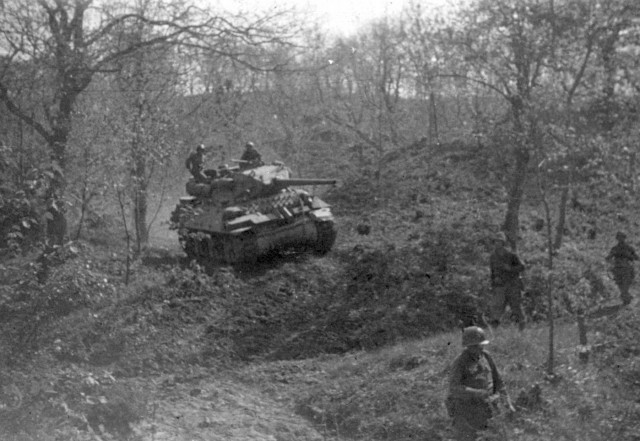 Tenth Mountain Division M-10 Tank Destroyer emerges from the woods, Italy, 1945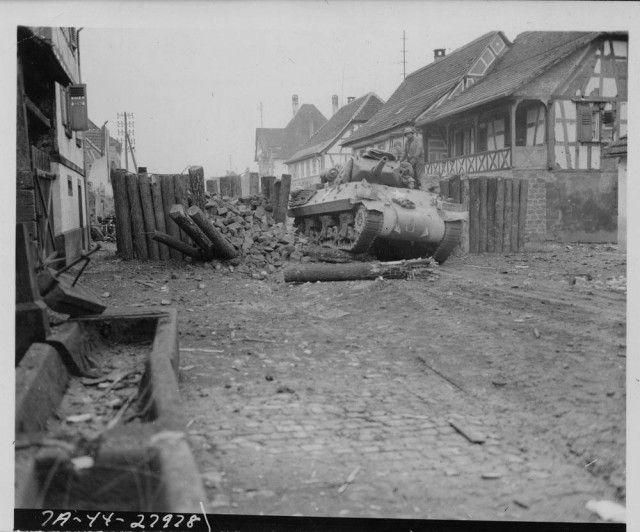 M-10 Tank Destroyer of the 645th TD Bn, 45th Division (7th Army), pushes through a roadblock, Lembach, France, 14 December 1944.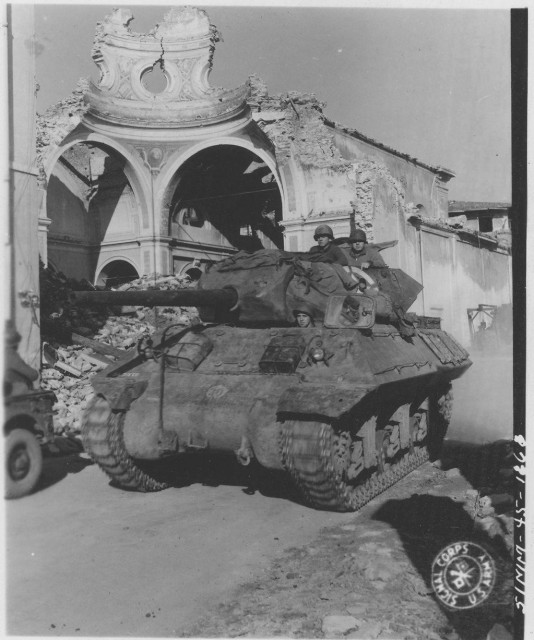 An M-10 tank destroyer of the Fifth Army, 92nd Division passes a destroyed church as it moves forward to a new position, Quercia, Italy, 8 February 1945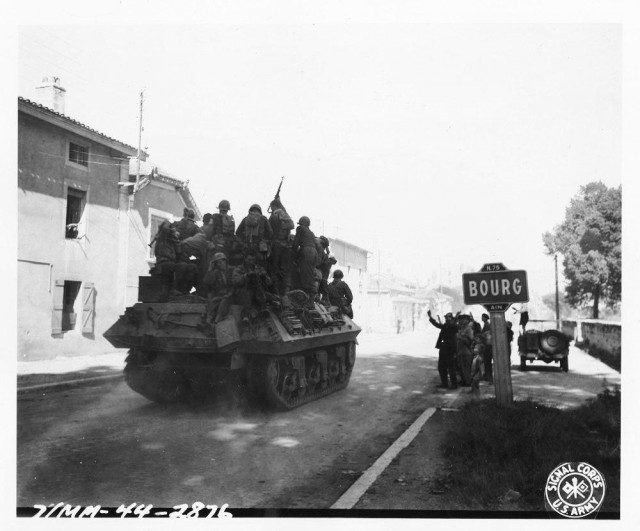 M-10 Tank Destroyer carrying soldiers of the 45th Division enters Bourg, France, 4 September 1944. Retreating Germans abandoned the town about 4 hours earlier, taking all the bicycles with them.