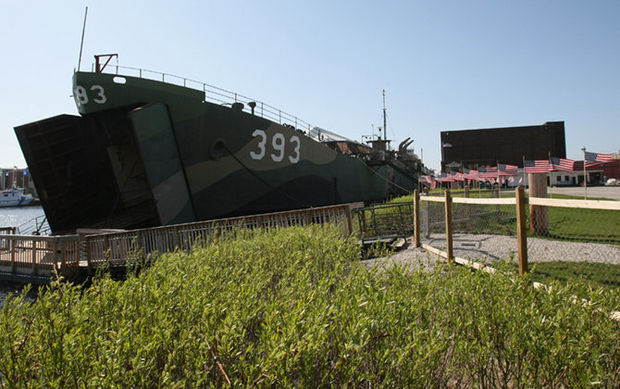 The USS LST-393 Veterans Museum is one of only two ships of its class which is still afloat today. These ships were used during the Second World War to dock and transport, armored vehicles. Without such tank transports, many important battles of WWII could not have been fought, let alone won. Now, the Veterans Museum aboard one of the two surviving ships, the LST-393, is planning to host new events in 2014.
The events are not the only thing being added to aboard the museum, which has recently acquired a new anti-aircraft cannon and parts from a Patton tank. One of the newest additions to the ship, which offers a self-guided tour, is the ability to go on said tour more frequently as a museum member. The LST-393 runs on donated funds, and as such has had to extend its offerings to draw in more money. This means some events will be more geared towards a public that isn't necessarily part of the museum-going crowd.
One such event is their new recurring series which will be screening war-related films on board the ship. Their first movie will be screened on the anniversary of the Normandy invasion, marking seventy years since an epic battle which the LST-393 actually took part in. They will be showing the film The Longest Day, which is based around several characters and their missions on D-Day. While most films will be shown above board, the first will actually be shown inside the tank deck.
The museum has been open for eight years, and they are concentrating hard on upgrading their event listings as well as their exhibits and overall feel. This means focus on making the space neater as well as better organized. The LST-393 wants to increase patronage for its ninth year for the sake of education as well as in honor of the WWII veterans around whom the museum is centered, the MLive.com reports.
The USS LST-393 Veterans Museum offers a learning experience aboard a ship which is a direct part of the history it teaches. Even were it not for the exhibits showcasing uniforms, equipment and the like, the interior of the ship would be something of a museum itself, providing a look at the surroundings in which WWII naval crews lived and worked every day. The donation-run museum also hires volunteers for many various duties, making sure that they can dedicate the majority of the money they receive to keeping the LST-393 in the best condition possible so that visitors will be comfortable enough to concentrate fully on what they can learn.