This telegram is one of the most historic and famed messages from World War 2. It is a copy, which was discovered by Martin Bormann, of a telegram sent to Adolf Hitler from Hermann Goring advising that Goring would be taking control of the government in Germany within 24 hours.
This message was to mark the beginning of the downfall of Hitler's administration and ultimately his government rule. The telegram (an original carbon that was prepared at the exact time of the wireless message) is on a Naval Intelligence Form and measures 8¼ by5 ¾ inches.
The message wears a 'Secret!' stamp in red on the upper right-side and marks the time it was received as 00:56 hours, April 23, 1945. This is how it reads (in full):
"My Fuhrer: General Koller today gave me a briefing on the basis of communications given to him by Colonel General Jodl and General Christian, according to which you had referred certain decisions to me and emphasized that I, in case negotiations would become necessary, would be in an easier position than you in Berlin. These views were so surprising and serious to me that I felt obligated to assume, in case by 2200 o'clock no answer is forthcoming, that you have lost your freedom of action. I shall then view the conditions of your decree as fulfilled and take action for the well being of Nation and Fatherland. You know what I feel for you in these most difficult hours of my life and I cannot express this in words. God protect you and allow you despite everything to come here as soon as possible. Your faithful Hermann Goring".

The carbon has a long, neat, vertical rip that begins at the bottom and runs up to 1 inch below the margin at the top. It has been repaired at some point in time, using archival tape on verso, but this has had an effect on five of the typed letters.
This message was part of Goring setting in motion a secret decree that was written on June 29th, 1941 by Hitler himself; this ordered that should he ever become kidnapped, incapacitated or killed then Goring was to take over his position in power. Bormann, who had control in the access to Hitler and hated Goring, used this message to attempt a coup d'etat for reasons of 'treason'. Walther Hewel (liaison for Joachim von Ribbentrop) tried to justify this action by Goring by stating the communications system within the bunker could break down at any moment in time and therefore sever the structure of command. Goebbels agreed with Bormann's argument and agreed that the whole thing smelled like a coup.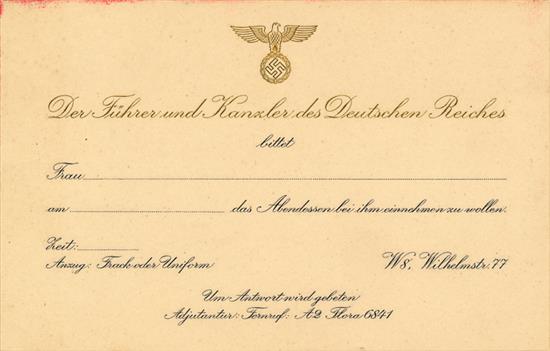 According to Albert Speers the telegram, most likely the very one shown and read to Adolf Hitler, was the beginning of Hitler's psychological breakdown which set off the disintegration (politically) of control and command of the military. When Hitler found out about other communications that had been going on between Goring and other officers, which gave hints of the secret decree, he became enraged. Hitler sent Goring a telegram on April 25th informing him that he'd committed 'high treason' and gave him the choice of resigning from all his positions in exchange for staying alive. The SS in Berchtesgaden was also ordered to arrest Goring, by Bormann. On April 28th, Adolf Hitler found out that Heinrich Himmler was attempting to talk about terms of surrender with the Western Allies. Hitler ordered Himmler's immediate arrest and had Hermann Fegelein shot. The telegram from Goring, and the following activities stayed with Hitler until the end. His final will & testament officially dismissed Goring from his offices and the Nazi Party itself.
United States Army Captain Benjamin M. Bradin entered what was left of the Fuhrerbunker in July, 1945 and collected an armful of telegrams, letters and other 'souvenirs' from a desk and files that lay inside. He took these to his home in South Carolina, where they lay securely in a vault, unexamined, until 1958. Bradin's son was enrolled in The Citadel as a student and looked up to his history professor, Dr. Robert Rieke. Dr Rieke was fluent in the German language and had served time on the military staff of the president of The Citadel. Young Bradin took some of the Bormann paperwork to Rieke for translation and examination.
Rieke went on to urge young Bradin to use the contents of these documents in his final thesis. The 'Goring Telegraph', as well as a Hitler printed invite, were given as a thank you for his assistance. Rieke held possession of these until 1978 when he gave these to his dear friend, who placed these in a deposit box whilst on a 22 year sabbatical as an Oxford scholar.
As well as these papers, Rieke also included a note describing the contents and the method in which he'd obtained them and noted his friends name as the recipient and added 'The original telegram is in FRAGILE condition'.
David Irving, the controversial Historian, managed to get copies of some of the Bormann letters, notes and documents and quoted young Bradin as being their source. These authentic documents were used in Irving's book 'Goring A Biography'.
These items included provenance: Rieke's letter with hand-notes written upon them in pencil, Rieke's son's letter attesting that the writing on the note matches that of his fathers, a picture of Rieke, and more. This is a vital document of great importance historically, and comes in two pieces. It has an estimated value of $15-20,000.
Image Credits: auctions.alexautographs.com