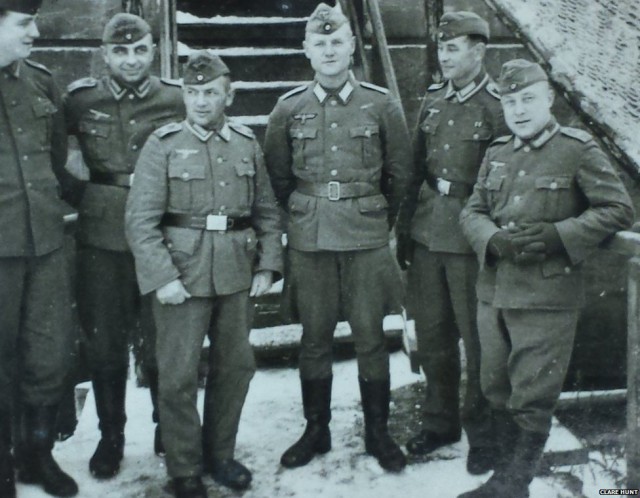 On November 1, 1944, Arthur Thompson, a Royal Marine from Herney Bay in Kent, came across a German camera during the allied operation to liberate the Dutch. He found the camera in the concrete bunkers on the island of Walcheren. It seems to have been left by the fleeing Germans.
Arthur Thompson died in the year 2013 at the age of 89 and his last wish was that the photographs and camera be returned to the Netherlands. The roll in the film not only shows Nazi German soldiers relaxing and laughing together but also pictures of Mr Thompson along with his fellow commandos. There are also photographs of a German officer playing with a dachshund on a beach.
The bunker was a part of the Atlantic wall that stretched all the way from the Spanish border to Scandinavia. The wall was one of Hitler's defence systems against any unexpected attack from the Allies.
When Mr Thompson found the camera, he was 21 and was a part of the 47 Royal Marine Commando sortie to the Dutch island. His mission was to free the port of Antwerp and liberate the Dutch, the BBC News reports.
Mr Thompson recalls, "We went through the bunkers and I picked this camera up. It had got film in it – the Germans had taken so many and there was a few left, so I took a few myself. When I got back home I had it developed, and out came the Germans and me."
The 47 Royal Marine Commando was formed in August 1943 and is also credited with the Normandy Landings where Mr Thompson first tasted action.
Clare Hunt, Mr Thompson's daughter, remembers that she has always seen the Voigtlander Bessa camera with her father and he used it to take photographs regularly.  Exactly after 70 years of finding this camera, Clare presented it to the Polderhauis Museum in Westkapelle, Netherlands. It is now there on a permanent display along with the photographs from the first roll of film. The owner of the museum was all praise for Mr Thompson and felt very honoured when he was given this camera.