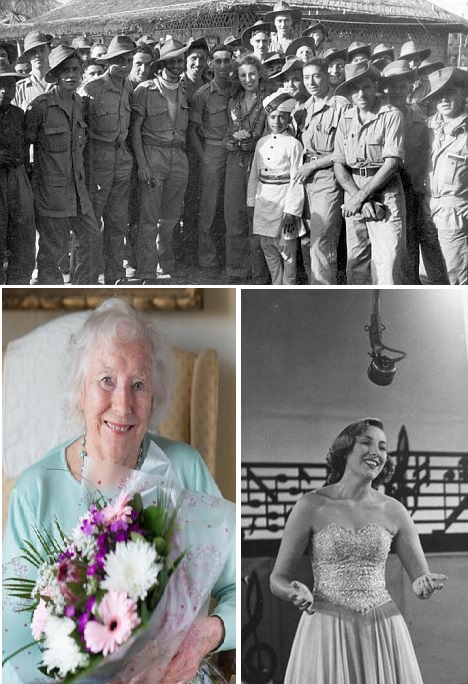 English singer Dame Vera Lynn is far from over in the music industry. On her 97th birthday celebration last March 20, she announced her plans of releasing a new album.
Dame Vera Lynn or Vera Margaret Welch in real life was the voice that boosted up the morale of many during the dark years of WWII through her songs which included We'll Meet Again and The White Cliffs of Dover. She also traveled to Burma, India and Egypt during WWII entertaining soldiers through outdoor concerts. Such was her voice's effect to British troops that she became widely known as "The Forces' Sweetheart".
Now at the ripe age of 97, Dame Vera Lynn isn't showing any signs of slowing down when it comes to her passion in singing though she said her singing days are "well behind her". She is planning on releasing a new album, a combination of her previous hits along with some of her unreleased tracks. The compilation of her songs will be titled Vera Lynn: National Treasure – The Ultimate Collection.
Planned date for the album's release will be on June 2 to coincide with the celebration of the 70th D-Day Landings' celebration which will occur four days after.
Dame Vera Lynn said in a statement that she think it wonderful her songs are still listened to and enjoyed. However, what she loves most is how her music encourages people to remember that part of history which happened 70 years ago. She further added that she is deeply moved when recalling those days and is humbled by how people think highly of her because of what she did during those years – singing for the troops. After all, she pointed out, it was responsibility to sing.
Vera Lynn: National Treasure – The Ultimate Collection will bring together over 40 songs some of which were only available previously on 78 rpm vinyl.
According to record label Decca, the music of Dame Vera Lynn in this album had been remastered taken from "the best available recordings". Many song tracks were also transferred from their original unplayed sources. The previous greatest hits collection released by the singer – We'll Meet Again – sailed to the top of the UK album chart last September 2009 making Dame Vera Lynn, who was 92 at that time, the oldest living artist whose record made it to the number 1 spot.
She told BBC who interviewed her that time that she was shocked with the recognition as she thought she would still be around much less score a no. 1 hit.
In 2010, she also released an album comprised of new material. It featured a number of tracks from unmarked discs that had been sitting on the shelf for 6 decades. The new collection will also be marked with more unreleased materials as bonus tracks. These songs were discovered by her daughter Virginia.
Additionally, this year marks the 90th year of Dame Vera Lynn in show business. She made her debut on stage at the tender age of seven. Throughout WWII, he voice was constantly played over the airwaves and was heard by millions. No official records had existed then through majority of her career but it has been estimated that  she sold millions of albums in those times as well. As what a recent book stated, she would have had dozens of number one singles in her sleeves before The Official Charts was launched in 1952.

The late Colin Brown who compiled The Missing Charts suggested that the very first no. 1 in the UK charts, would there had been any during the WWII years, would have been Dame Vera Lynn's We'll Meet Again. He reached this wrap-up after examining sales figures from publishers and music companies during the 1940s and up.
This could be quite true for when NME released its first chart in 1952, Vera Lynn had three songs occupying three spots in the top ten with US troubadour Al Martino on the number 1 with his Here in My Heart.
– BBC and The Telegraph reports