On the 10th of October, 2015, Clare Hollingworth went to the Foreign Correspondents Club in Hong Kong. An honored member, Clare has visited the club almost daily over the past thirty years, but that Saturday was different. She was 104 and was celebrating her birthday surrounded by friends and family.
Roll the clock back to 1939. Clare was a 27-year-old reporter with the London Daily Telegraph, and was in Poland, ostensibly to report on the refugee situation. She became involved with the refugees, however, and helped many of them to safety. While in Poland, Clare stayed with the British Consul General, and on one occasion she needed to cross the border into Germany to buy items that were unavailable in Poland. Clare Borrowed the consul's diplomatic car, and on the return journey she spotted over 1,000 German tanks massing on the Polish border.
Clare immediately phoned her boss in Warsaw, and the following morning the newspaper's headlines announced that German troops were about to invade Poland. Several days later, on the 2nd of September, Clare awoke to the sound of gunfire and called the British embassy to report the outbreak of hostilities. She wasn't believed until she held the phone outside the window. At the age of 27, Clare was the first reporter to announce the news that the Second World War had begun.
Later in the war, Clare spent a good deal of time in North Africa, and it was there that she experienced the first of many close brushes with death. Sleeping in the desert, she awoke to hear German voices. Terrified and covered with sweat, Clare froze, and the Germans drove on.
After the war, Clare spent some time in Cairo, and while there she discovered the defection of Kim Philby, the notorious British 'Third man' who spied for the Russians against the West. Clare broke the news – another scoop for the woman who was by now highly respected by her peers but relatively unknown to the public, the Mail Online reports.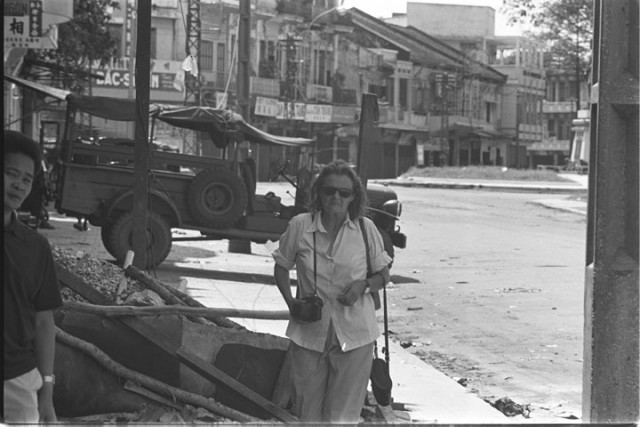 As time went on, Clare's exploits and her ability to ferret out the big stories became legendary, and her list of contacts contained some of the world's best-known names. She was the only woman to interview the Shah of Persia – twice, and future U.S. President George H.W. Bush was one of her contacts.
Clare's later life has been marred by a court case over money missing from her accounts while a fellow member of the Foreign Correspondents Club was managing her affairs, but that matter has been largely resolved. Aged 104 and blind, Clare still enjoys the occasional glass of champagne to go along with a lifetime of amazing memories.
Image Source: Bundesarchiv