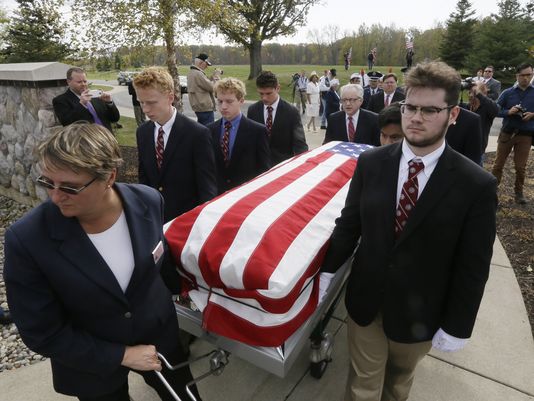 The US department of Housing and Urban Development estimates that on any given day there are 50,000 homeless military veterans on American streets. Most of them are male, but approximately 8% are female. A further 1.4 million veterans are considered to be 'at risk of homelessness'.
Large numbers of the homeless are suffering  from the effects of effects of post-traumatic stress disorder and substance abuse. Their problems are often made worse by a lack of proper social support systems and family networks. I addition, military training doesn't adequately equip people for a return to civilian life, making it more difficult for them to obtain employment. This combination of circumstances can rapidly lead to depression, and an inability to cope with normal everyday life.
The US Department of Veteran Affairs was given its present day status in 1988 by President Ronald Reagan. It was granted Cabinet status, and President George H. W. Bush later said of it: "There is only one place for the Veterans of America, in the Cabinet Room, at the table with the President of the United States of America."
They were fine words, and the department has worked hard to ensure that those who serve their country are treated with the care and dignity they deserve. Unfortunately, many veterans are slipping through that net and new initiatives are necessary if the problem is not to worsen.
Five years ago the White House outlined a plan to get all of America's homeless veterans off the streets by the end of 2015. Although progress has been made, that deadline looks impossible to achieve and officials from the departments of Veterans Affairs and Housing and Urban Development have issued warnings ahead of time. In any case, administrative processes surrounding data collection and verification mean that the true figures for the year end will not be available for a further 15 months.
Meanwhile, students at the University of Detroit Jesuit High School and Academy have acted to honor homeless veterans who have come to the end of their lives.
If after 90 days no family members come forward to claim the remains of a deceased veteran, the students work with local funeral homes and with other organisations to ensure there is an appropriate military burial, the Military Times reports.
The school has trained more than 50 students who act as pallbearers, and a spokesperson said that their actions are a way of giving something back to the men and women who risked their lives for their country.