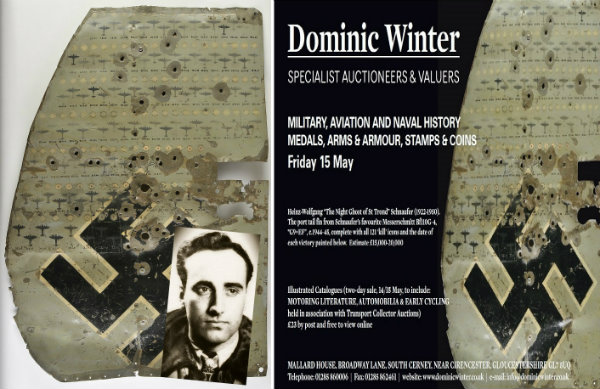 The tail wing of the plane flown by Heinz-Wolfgang Schnaufer, the highest scoring night fighter ace in the whole aerial warfare history is to go under the gavel this coming May 15 at Gloucestershire and is expected to fetch up to £20,000.
All the 121 enemy kills made by the Luftwaffe night fighter ace are displayed, stenciled on to the bullet hole-ridden tail wing that's up for sale. The "kill" icon markings made up of small roundels and four-engined British bombers take up the half top part of the tail wing while the lower half displays the prominent Nazi symbol, the swastika.
A Luftwaffe aircraft and military air historian, Wolfgang Lohmann, acquired the tail wing sometime in the 1970s and it has been with him, displayed in his home in Germany until now. According to him, He found the said item being used as a roof patch in one of the houses in the Hillegossen village in Germany. He, then, offered the homeowner 70,000 Deutschmarks for it which the latter accepted.
Heinz-Wolfgang Schnaufer was a German Luftwaffe night fighter pilot with 121 confirmed British and Commonwealth bomber kills throughout the 164 operational sorties he was involved in from June 1, 1942 to March 7, 1945. This whooping figure made him the deadliest night fighter pilot throughout the history of aerial warfare and earned him the moniker The Night Ghost of St. Trond pertaining to how all his kills took place in the night and involved four-engined British bombers and the location of the base where his unit was at which was in Nazi-occupied Belgium.
Schnaufer was one of the only twenty-seven men who received the highly coveted Knights Cross with Oak Leaves, Swords and Diamonds.
Eventually, his plane was shot down on March 30, 1945. However, that time, the night fighter ace wasn't the one who piloted it. The Second World War did not kill Schnaufer; he survived it. Ironically, though, he died while he was buying wine in Bordeaux, France and got involved in a road accident on July 15, 1950. He was only twenty-eight when he passed away.
Chris Albury, a senior auctioneer of the Gloucestershire-based Dominic Winter Auctioneers Ltd., described the tail wing from Schnaufer's plane as quite unique saying that they never had a "Messerschmitt bell fin like this before".
He added that though the tail wing up for auction has already caused a stir with several individuals commenting about it, he doesn't believe that it's a controversial piece of WWII memento like other Nazi memorabilia. He pointed out that though the tail wing came from a German war plane, it is also a real piece of WWII history and the fact that it was once a piece of the plane of the war's deadliest night fighter pilot, that's a great part of the whole Second World War story.
https://www.youtube.com/v/Be76fKXVg9U