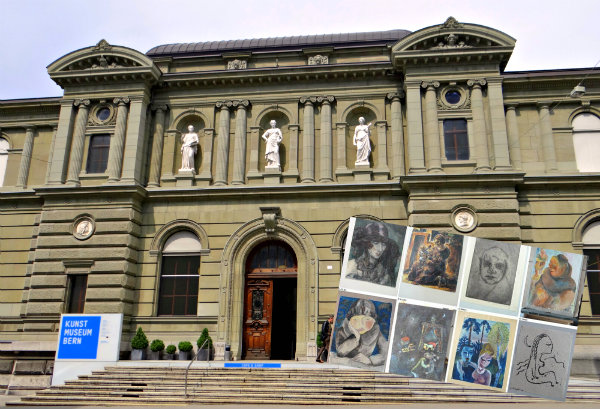 Christoph Schäublin, the president of the Swiss fine art museum Kunstmuseum Bern, expressed how the facility accepts an assortment of modernist pieces from the controversial Gurlitt trove with a heavy heart.
According to Mr. Schäublin, Kunstmuseum Bern has decided to accept a large parcel of the artworks part of the Cornelius Gurlitt horde. The said treasure trove of art masterpieces were discovered in the Munich flat February of 2012 of the recluse and the son of a Nazi-era art dealer. However, Mr. Schäublin pointed out that Kunstmuseum Bern doesn't feel any triumph in acquiring several hundreds of the art works.
The president's remarks were in connection to the signed agreement between Germany and Switzerland Monday, November 24, which stipulated that the Kunstmuseum Bern would be taking charge of hundreds of the masterpieces in the Gurlitt stash, many of which were acquired during the height of the Nazi era and were believed to have been stolen or taken forcefully from their owners. These masterpieces include works from Pablo Picasso, Claude Monet and Marc Chagall.
Nevertheless, part of the agreement stated that the masterpieces whose owners still needed to be identified will be left in Germany until their ownership could be traced.
Mr. Schäublin stressed out that he did not want to put the good reputation of the Kunstmuseum Bern into jeopardy and that the clause saying "looted art or works … suspected of being stolen by the Nazis will stay in Germany" is central to the agreement signed.
Gurlitt, who passed away in May at the age of 81, entrusted the whole of his horde of art masterpieces to the Kunstmuseum Bern which is Switzerland's oldest art museum.
It can be remembered that February two years ago, authorities discovered his treasure trove of art pieces in his Munich flat which was, then, confiscated by the Bavarian authorities. The large collection of masterpieces is, until now, subject to much controversy and wranglings as a large part of it is believed to have been taken illegally by the Nazis at the height of Hitler's regime. Hildebrandt Gurlitt, the father of Cornelius, was an art dealer during the Nazi-era and was given permission to acquire art works that were deemed "degenerate" by Hitler and his cronies.
Gurlitt's collection will go on display at the Kunstmuseum Bern as early as next year following its transition to the fine arts facility. When asked to rank the significance of the Gurlitt collection, the Kunstmuseum Bern replied that the donation is their "fifth or sixth most important".
Meanwhile, three of the art pieces from the stash were identified as looted and the German government has assured that they will be promptly returned to their respective owners.