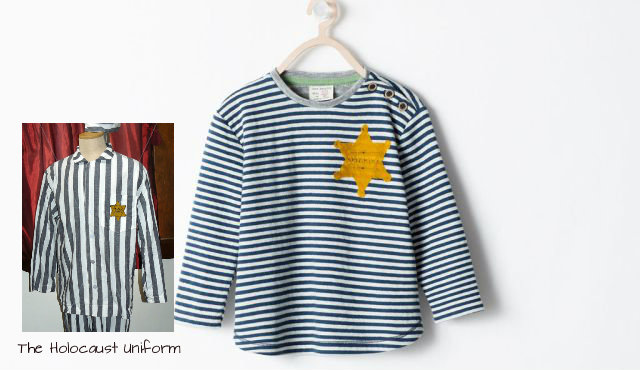 Due to a string of shoppers' reactions, the clothing and accessories retailer Zara has removed from its stores its stripped 'sheriff' tee. The said piece hauntingly resembled the striped uniforms the Nazis forced Jews to wear in the concentration camps during WWII.
As what one individual observed in her tweet, the Zara sheriff t-shirt looked somewhat 'Holocaust-ish" in its design.
The said Zara garment sported horizontal stripes unlike the garbs the Jews were forced to wear which had vertical stripes. However, the six-pointed yellow star on the Zara t-shirt was placed on the exact spot where the Nazis enforced the Jews to wear the Star of David. The only difference is that in the Zara t-shirt, the over-sized star had the word "sheriff" written faintly across it. In light of this, a Zara spokesperson, in behalf of the retail company and its parent company, Inditex, has apologized for the t-shirt design. The spokesperson further went on that the Zara t-shirt was inspired from classic Western movies and had not thought of it in light of that particular piece of history.
Another fashion company, the Denmark-based Wood Wood, also went under fire for the same issue way back in 2012. In that time, Wood Wood had released a t-shirt that featured a detailing very similar to the Star of David which was worn de rigueur by Jews during the Holocaust.
The company promptly apologized and removed the star after  the Anti-Defamation League lambasted it.