In May of 1968, when Stanley Adams received his military draft notice, he was not surprised since many of his friends had already been called into service for the Vietnam War. Little did he realize that within a few months, the boy from Mokane, Missouri, would become a man when embroiled in combat thousands of miles from home, experiencing deprivations and a loss of friends that he would struggle to forget in later years.
Through the encouragement of family, he has since rekindled many of his military friendships and penned a book in hopes of preserving the history of the unique group of soldiers with whom he served.
"I was inducted into the Army in June of 1968, and went to Fort Leonard Wood for my basic training and then on to Fort Ord in California for my AIT (Advanced Individual Training) as an infantryman," Adams recalled. "By late November, I was on an airplane heading to Vietnam," he added.
Assigned to Company B, 4th Battalion, 9th Infantry Regiment of the 25th Infantry Division located near Tay Ninh, Vietnam, Adams explained that the regiment was called "Manchu," which stood for "Dragon Men," in the lexicon of Vietnamese locals. The dragon, explained, was a component of the 9th Infantry Regiment crest.
Upon his arrival in Vietnam, the barely 20-year-old "replacement" soldier was advised that the Manchus were always in the thick of the fight and his chances of making it home were slim. These admonishments would nearly become a reality three weeks later, when he was caught in a major battle that has never disappeared from his reflections.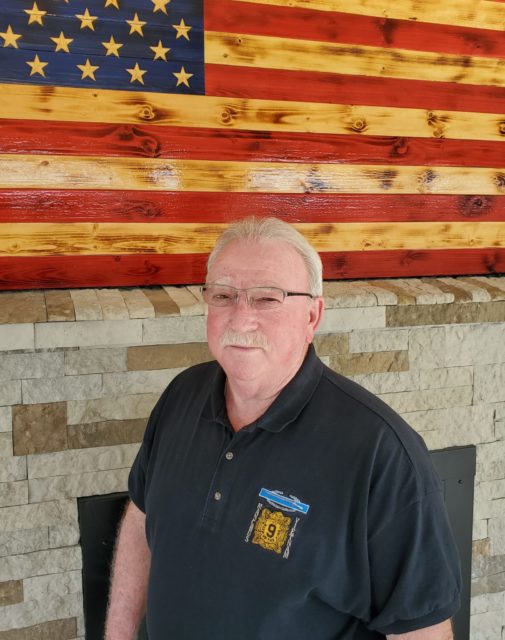 "Word came around that we were to build a patrol base camp 9.5 miles south of Tay Ninh City, west of the South Vam Co Don River about half a klick away from the Cambodian border," wrote Adams in his book "Mokane to Mole City."
He added, "The site was a flat, wide open area in the rice fields that became hard and dusty during the dry season."
The camp, designated "Mole City" by the soldiers stationed there, became ground zero for a bloody battle unfolding on December 22, 1968. While on a listening post near the camp, Adams and three of his fellow soldiers observed enemy movement and were nearly discovered. They quickly gathered their equipment and returned to Mole City to report their observations.
"Shortly after we returned to camp that night … the radar squad on the tower sent word down the bunker line that they could see a tremendous amount of enemy movement down the wood line and ditches with the starlight scope," Adams wrote. "Three of our booby-trap grenades went off at the entrance to the ditch, in the vicinity of our earlier (listening post)."
The details of the nightmarish episode that developed are enough to fill a book, and have become a large part of Adams' aforementioned book. Portions of the camp were overrun by the North Vietnamese Army (NVA) and many U.S. soldiers whom Adams had only begun to know were killed in action.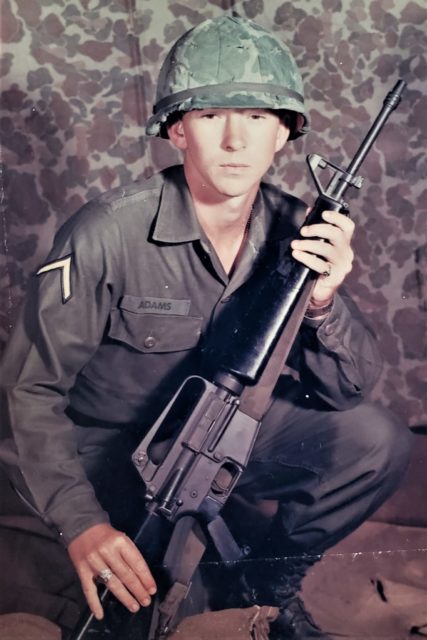 Adams wrote, "We had to fight to the finish, no matter the outcome. If it came down to it, I guess we would've fought to the last man standing, like the Alamo. None of us knew how this was going to end, and we were all very scared."
Their savior came at daybreak, with gunships and helicopters continuing to drive the enemy forces back into nearby Cambodia. This was the first, and most intense, combat experience of Adams' year served in Vietnam, although the coming months were accentuated with death and despair from combat patrols in addition to assorted battles and skirmishes.
"You became callous to it all, and tried not to get close to anyone because you just never knew if and when they might be killed," Adams said. "I will never forget my sergeant telling me, 'You won't hear the round that gets you, so why worry about it?'"
Returning to the states in late 1969, Adams finished out the remaining six months of his two-year draft period with a unit at Fort Carson, Colorado. When back in Missouri, he met Rita through mutual friends, and they married in November 1974. As the years passed, the couple raised two daughters and he went on to retire from Ameren UE.
"I was looking through some of his pictures from Vietnam and believed the worst tragedy would be for him not to see his buddies ever again," said Rita. "I did some research on the internet and found that the Manchus were having reunions, so we began attending several years ago."
During the reunions, Adams was encouraged to see a counselor at the VA, who advised him to make notes of his dreams of Vietnam as a means of coping with the disturbing memories. While doing this, he also noticed at the reunions that many of his friends were passing away. From the encouragement of his wife and daughters, he resolved to write a book of his experiences.
"It was a very stressful experience and it was like I was reliving these battles every day when writing the book," he said. "When it was finished, many of those dreams dwindled away, but some of the memories I can never be rid of."
Pausing, he added, "I remember when I got ready to leave Vietnam back in 1969, my captain encouraged me to reenlist. I decided to leave the Army because I knew I would be sent back to Vietnam.
"I'm a believer that you only get so many chances in life."
Autographed copies of Adams' book are available through www.luckysnipe.com.
---
Jeremy P. Ämick writes on behalf of the Silver Star Families of America.