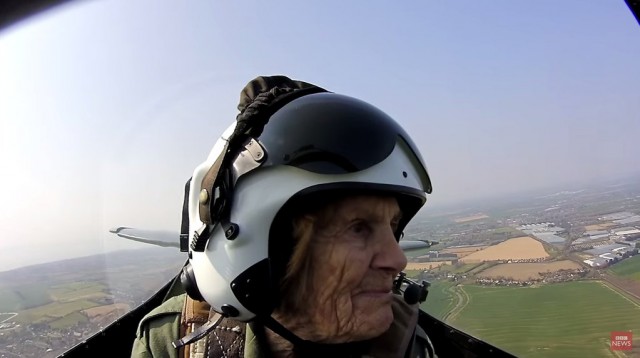 Image via Twitter
Seventy years ago Joy Lofthouse was flying Spitfires over Britain during World War Two, and now she has had the chance to do it all over again.
Marking the 70th anniversary of the end of World War Two, Joy, who is now 92, was able to fly once again in the British air icon, the Spitfire.
Joy says it brought back so many memories of her youth during the war, when her job was to fly the Spitfire across Britain delivering the aircraft to wherever they were needed. Joy was part of the Air Transport Auxiliary during World War Two, which gave mainly women the job of transporting military aircraft to air bases across the country, either to deliver newly built aircraft or to transport different airbases to wherever military operations required them.
Joy said that to have the opportunity to fly in a Spitfire at the age of 92 was a miracle, and she feels so lucky to be able to do it.
Hundreds of Britains worked to transport aircraft across the UK during the war and ensured that the Royal Air Force had the aircraft it needed, when and where it needed them.
It was the Supermarine Spitfire that became the iconic aircraft of the Royal Air Force during the war, and was the reason won the Battle of Britain over Germany's Luftwaffe in 1940. Joy had to deliver many of the Supermarine Spitfires when they were first produced, and she recalls how ever since pilots have been envious of her.
Joy's husband was also a pilot but he flew bombers over enemy territory. Joy recalls how his colleagues and pilot friends would all ask her about her exploits of flying the Supermarine Spitfire.
She says that they would all say how they would have given anything for the chance to fly a Spitfire, the CNN Edition reports.
Joy's recent flight in the Spitfire took place to commemorate the 70th anniversary of the end of World War Two and she says that while she was excited to take part in the event, she was aware that 70 years had passed since her last flight in a Spitfire. Nevertheless, once she was up in the air she says that she forgot her age and memories of 70 years ago came flooding back like it was yesterday.