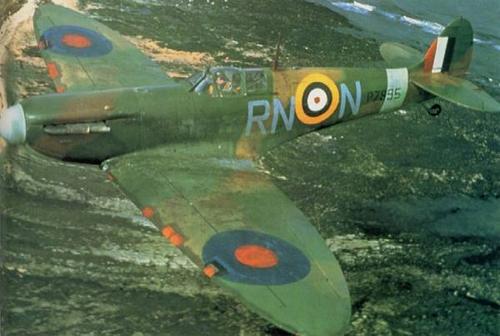 Painted as a 72 Squadron aircraft, the Mark II P7895 Spitfire served from 1941 to March 1945. It took part in the Battle of Britain and now it is the new pride of the Ulster Aviation Society. The replica was built from fiberglass and developed by an English firm, specialized in aircraft.
The chairman of the society, Mr Ray Burrows seemed very excited about the new acquisition, saying it would be a great tourist attraction for visitors. The association has been trying for four months to grab a replica of the Spitfire. The fighter aircraft has been many times based at Royal Air Force bases in Northern Ireland during the Second World War.
The Society holds the largest collection of war aircraft in the whole of Ireland. It was founded in 1968 and its collection includes 20 different planes. Large numbers of visitors have passed by to have a look at the hangar during the past years but the majority have always been from the Lisburn area. They would sometimes come in for group tours or would just stop by on Open Days, the Ulster Star reports.
A great part of the Society's team are also from the Lisburn area and they sometimes go around and help with the restoration and the preservation of the aircraft. The next plan for the Society is to raise even more interest among the community and to get people to be proud of this acquisition and of this facility on its way to becoming a real museum.
The real costs of a fully working Spitfire goes up to  £1.7 million for the relatively rare aircraft, a price the 370 members of the association could never afford to pay, said Mr Burrows. However, a few replicas have hit the market recently and experts put all their efforts into creating exact and detailed full-scale air frames for the fabulous machines.
According to Mr Burrows, the Society initially intended to start an 18-month fundraising campaign to help them raise  £85,000, the price of a single replica. It was a very unusual situation when the Spitfire come on the market in December, at such a low price. "This aircraft was basically looked at, purchased, delivered and assembled here in three days — which is a record, even for the Society," said Burrows.
The plane is an exact replica of the kind purchased after the  Belfast Telegraph Spitfire Fund raised enough money for the building of several Spitfire aircraft during the Battle of Britain in 1940. While their initial plan was to raise  £5,000 to build one Spitfire, people donated up to £85,000, giving the building companies the chance to build not one but 17 Spitfires.