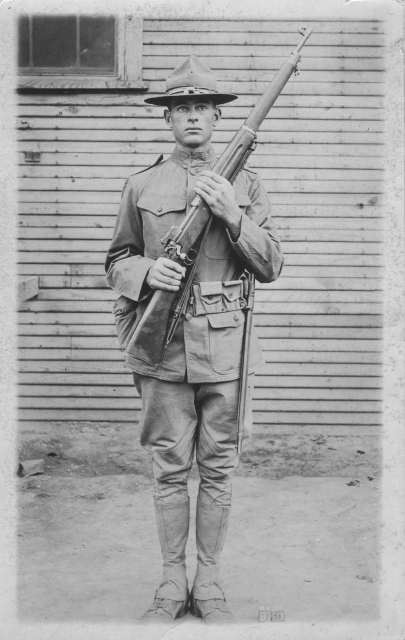 Stored in a dusty plastic container are dozens of letters and photographs from a man who served during a war nearly a century ago. Though the pictures may speak with the poignancy of imagery, the letters provide insight into the now-deceased veteran's experience during World War I and his love for the wife he left behind.
"My dad was raised by Uncle Frank and Aunt Belle," said Jefferson City, Mo., resident Keith West. "When they passed away, the (container) was handed down to my father and then later to me," he added.
Born in Centertown, Mo., in1889, Frank Watts –at 29 years of age—was many years older than a majority of his peers when inducted into the Army on June 24, 1918.
A few months prior to his induction, he was married to Jennie "Belle" Shoemaker, the woman that would become the object of his written affections during his military service.
According to documentation found through the Missouri Digital Heritage site, Pvt. Watts' service began with the 162nd Depot Brigade located at Camp Pike, Ark., which served as a training site for the Army's 87th Division during the First World War.
While there, the soldier frequently penned letters to his wife, informing her of his busy training cycle and expressing his wishes to see her once again.
"I am fixing to leave Camp Pike," said Watts, in a letter dated September 16, 1918 and written on YMCA stationary. After speaking of receiving a "new gun" and "sea stuff," he added, "Oh darling, I would love to see you once more before I go."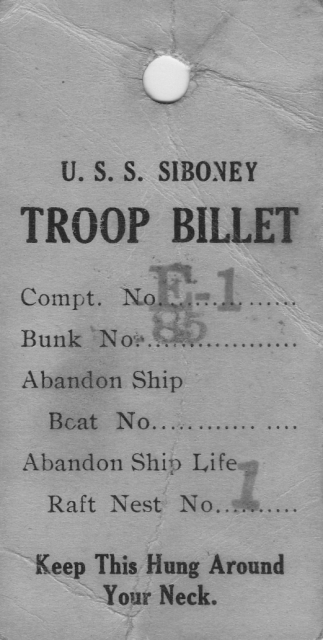 But it would be many months before the couple would once again visit in person, and Watts again lamented their distance in another letter penned while preparing for his overseas departure.
"I am packing up to leave this camp. They just told me to fix up my stuff to send it home if I had anything to send. … I wish I was going home instead of going to France. I would love to see you once more before I go but love, I can't. They won't let me have a furlough, so I won't get to see you (until) the war is over."
Records retrieved from the Secretary of State's online archives indicate Watts' overseas service commenced on September 30, 1918, a little more than a month prior to Armistice Day and the end of the war.
Photographs discovered in the veteran's wartime collection identify the mode of transportation used to carry him overseas—the USS Siboney. A tag indicates the area and bunk to which he was assigned during the journey and a photograph of the troop ship highlights the camouflaged exterior of their transport.
An official Army document mailed to his wife at her residence in Enon, Mo., states that as of February 4, 1919, Watts was stationed in Beaufort, Luxembourg as part of Company M, 130th Infantry and was "in best of health."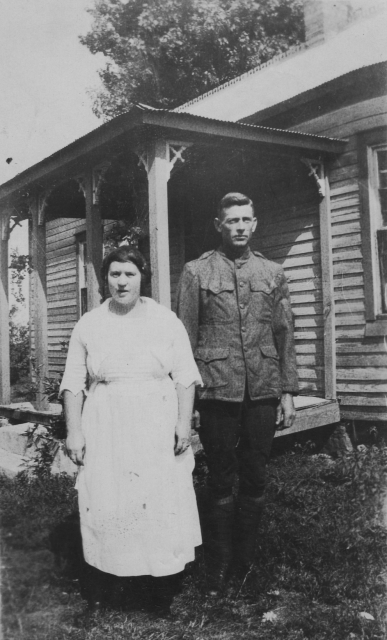 Letters continued between the couple, many lamenting the fact that communication channels of the time were at best sporadic and unreliable; underscoring that even a simple delay in communication was cause for concern for his "darling wife."
"I didn't get any letter from you last week and I was afraid you was sick," Belle worried, "but I hope you are well now."
Watts believed his overseas service would soon come to a close when—on April 6, 1919—his letter expressed the hope that he would return home in June, adding, "It is sure pretty and warm today, and yesterday was a pretty day, the warmest days we have had. It makes me home sick, but it don't do no good to get home sick."
His yearnings concluded as Private Frank Watts was discharged from the military at Camp Zachary Taylor, Ky., on May 29, 1919.
He returned to Missouri and later became a farmer in the Russellville, Mo., area, all the while accompanied by his beloved Belle—the "darling wife" whose decision to hang on to letters and photographs would decades later provide a glimpse into a young soldier's devotion.
Jeremy P. Ämick writes on behalf of the Silver Star Families of America.