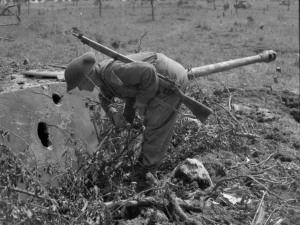 The Second World War took the lives of many young men who served in the military. But for the Wagner family, the loss was simply colossal. Sitting in her home in the hamlet of Teeterville in south-western Ontario, Lenore (Wagner) Floyd wondered how her grandmother coped with the ordeal while describing how all three of her sons were dead within six months of joining World War Two battles. Lenore's great-uncles Howard, Ivan and Harry were all killed while fighting in Europe in the Second World War.
Lenore's dining room is filled with collectibles related to these uncles he never met. There are pictures of them, newspaper cut-outs, relics, a cheery postcard from Nanaimo, insignias, B.C., a shabby wedge cap, as well as a tobacco tin that belonged to one of the brothers. There was a big stack of condolence letters and cards on another corner of the room and a three Silver Cross medals given to her by her grandmother.
All three boys left school at age 15 or 16 to look for work as it was during the Depression when money on the table was more important than school in Canada.
The first brother to die on July 18 was Ivan Wagner who was 27 years old at the time. He suffered a severe head injury and died a few hours later. He had only been in battle for less than two weeks as he landed in France on July 5 – a month after theD-Day from the Second World War. After his death, Sergeant W.J. Smiley of the Royal Regiment wrote a letter to Nora Wagner and told her how Ivan was a stretcher bearer who was "wonderful at his job," and was killed while attending to an injured soldier on the front lines.
Barely a month after losing one son, tragedy struck again. Harry Wagner was killed with six other soldiers on the 12th of August during a battle between the Canadian troops and the German defences while attacking south toward Falaise. He was just promoted to a corporal according to the condolence letter his mother received when Ivan was killed. Ivan and Harry were assigned to the Royal Regiment of Canada, the National Post reports.
Their youngest brother, Private Howard Wagner, was assigned to the Argyll and Sutherland Highlanders of Canada. After learning about the death of his two brothers and realising how dangerous his work was, in August, he sent a letter home where he said he had run into a few boys from back home and that the French people he had met hugged and kissed them and gave them a lot of drinks saying they were happy to see the Canadians. Howard was killed near Arnhem on the last day of the Battle of Kapelsche Veer. He was 19 when he joined the Second World War and was subsequently killed.
Unfortunately, the Wagners were not the only household so shattered by the Second World War. The three Westlake brothers from Toronto (George, Albert and Thomas) and several others died serving their country.