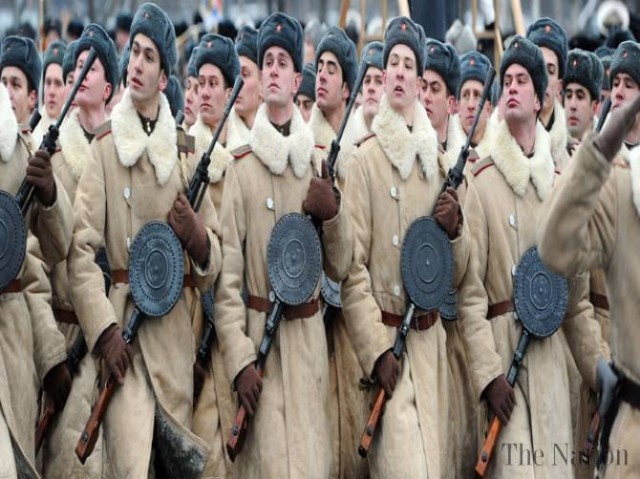 The Nation recently ran a story about the 70th anniversary of Russia breaking the Nazi siege of Leningrad.
Monday, January 28, 2014 marked 70 years since Russia was able to break the hold that the Nazi's had on Leningrad during the Second World War. The siege caused more than a million Russians to die due to starvation.
President Vladimir Putin and several dozen survivors of the siege visited the famous Piskaryovskoe Memorial Cemetery. The cemetery is the main memorial for the victims of the siege of Leningrad, which is now known as Saint Petersburg.
The President, who comes from the city, has said that his older brother died during the blockade. The president laid flowers at the memorial on the shore of the Neva River which marked the site of one of the most important battles during the siege. Putin's father took part in that very battle.
The president was scheduled to meet with war veterans and other survivors of the siege later that Monday. The group was also set to watch a theater play that commemorated the day.
The Nazi siege of Leningrad lasted for 872 days; it began in September 1941 and lasted until January 1943. This time is forever etched in the national consciousness as one of the darkest periods in Russian history. The blockade of the once imperial capital lead to over a million people to lose their lives. Most of these people died from hunger. Their starved bodies were left where they lie because the survivors were too weak from hunger to bury the dead.
Earlier on Monday, approximately 1,500 people took part in the military parade that show cased the Soviet-era war-time T-34 tanks as well as more modern Iskander ballistic missiles.
Preluding the anniversary, local authorities put together an exhibition that reconstructed a section of a street in the city center with siege-related artifacts like sandbags, boarded up windows, theater bills, old cars, and trolley buses.
"When I look at the chronicles and the pictures I can barely hold back tears," said Natalia Zvereva, 60, who brought her grandchild to see the exhibition. "It was such an awful time."
Sergei Stepanenko, 45, added: "My grandmother survived the blockade. She could not talk about it. It was too horrible."