During the Pacific campaign in WWII aircraft carriers were the prime targets in the fleet engagements fought between the USA (and later Britain) and Japan. At first massive carrier engagements took place where the carriers were damaged and sometimes sunk by torpedoes and bombs. Later in the war as the Japanese turned to ever desperate measures, the aircraft carriers were the target of Kamikaze airplanes.
What follows is a list of 6 fleet carriers that survived kamikaze attacks and were later repaired in put back into service. Many more escort carriers were hit and survived but fall outside the scope of this article.
USS Saratoga (CV-3)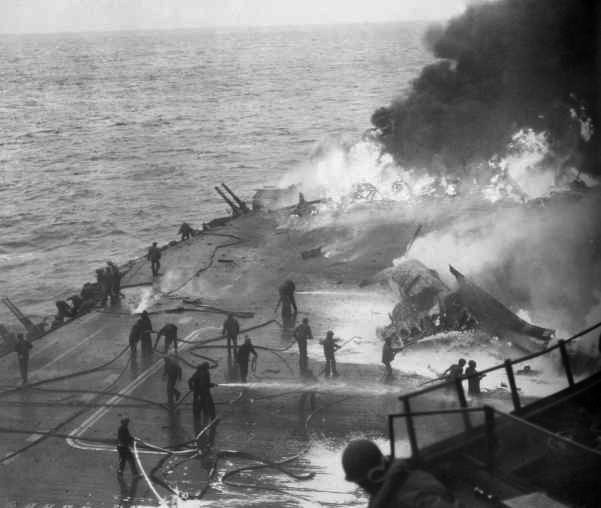 Saratoga hit by a kamikaze, 21 February 1945 via Wikipedia
On February 21st, 1945, taking advantage of low cloud cover and Saratoga‍ '​s weak escort, six Japanese planes scored five bomb hits on the carrier in three minutes; three of the aircraft also struck the carrier. Saratoga‍ '​s flight deck forward was wrecked, her starboard side was holed twice and large fires were started in her hangar deck; she lost 123 of her crew dead or missing as well as 192 wounded.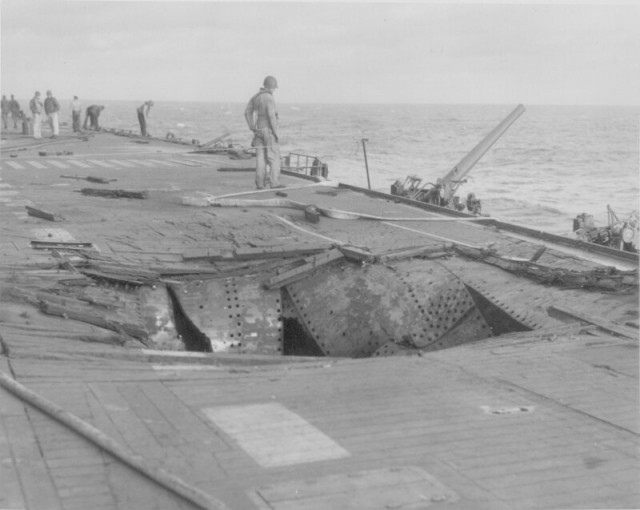 "Bomb hole in flight deck, port side fr.45. (Photo CV3 3703 Feb 22 1945)" via Navsource
Thirty-six of her aircraft were destroyed. Another attack two hours later further damaged her flight deck. Slightly over an hour later, the fires were under control, and Saratoga was able to recover six fighters; she arrived at Bremerton on 16 March for permanent repairs.
USS Franklin (CV-13)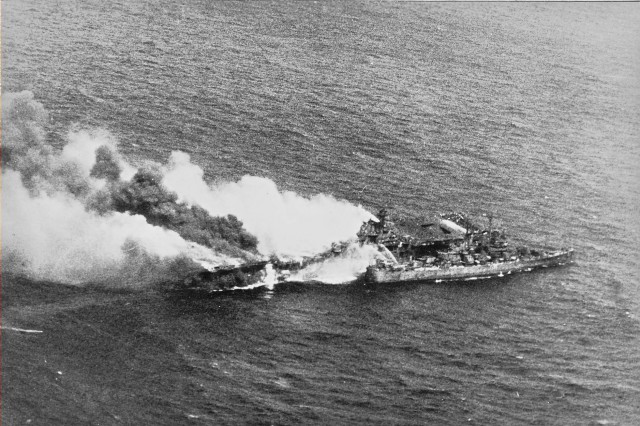 The burning Franklin with USS Santa Fe (CL-60) alongside, via Wikipedia
Before dawn on 19 March 1945, Franklin, which had maneuvered to within 50 miles of the Japanese mainland, closer than any other U.S. carrier during the war, launched a fighter sweep against Honshū and later a strike against shipping in Kobe Harbor.
Suddenly, a single aircraft pierced the cloud cover and made a low level run on the ship to drop two semi-armor-piercing bombs. The damage analysis came to the conclusion that the bombs were 550 pounds (250 kg). One bomb struck the flight deck centerline, penetrating to the hangar deck, effecting destruction and igniting fires through the second and third decks, and knocking out the Combat Information Center and air plot. The second hit aft, tearing through two decks.
Franklin lay dead in the water, took a 13° starboard list, lost all radio communications, and broiled under the heat from enveloping fires. Many of the crew were blown overboard, driven off by fire, killed or wounded, but hundreds of officers and enlisted who voluntarily remained saved their ship. A recent count brings the total 19 March 1945 casualty figures to 807 killed and more than 487 wounded.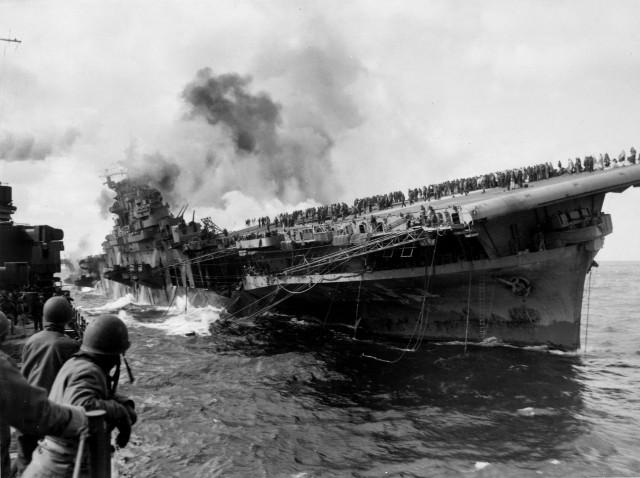 Franklin listing, with crew on deck, 19 March 1945 via Wikipedia
Franklin was taken in tow by the heavy cruiser Pittsburgh until she was able to raise enough steam to reach a speed of 14 kts, and then she proceeded to Ulithi Atoll under her own power for emergency repairs. Next, she steamed to Pearl Harbor, Hawaii, where repairs permitted her to steam to the Brooklyn Navy Yard, New York, via the Panama Canal, where she arrived on 28 April 1945.
USS Bunker Hill (CV-17)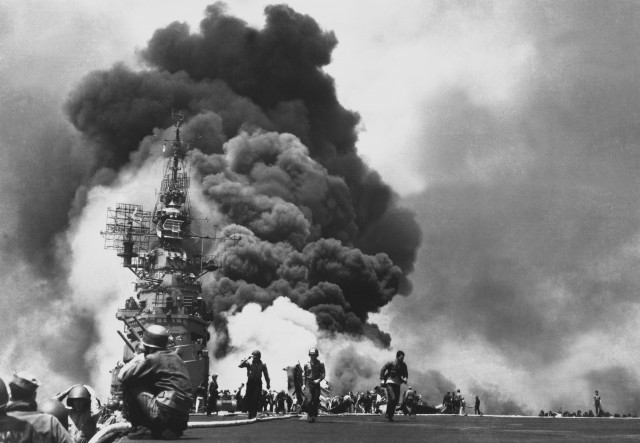 USS BUNKER HILL hit by two Kamikazes in 30 seconds on 11 May 1945 off Kyushu via Wikipedia
On the morning of 11 May 1945, while supporting the invasion of Okinawa, Bunker Hill was struck and severely damaged by two Japanese kamikaze planes. An A6M Zero fighter plane piloted by Lieutenant Junior Grade Seizō Yasunori emerged from low cloud cover, dove toward the flight deck and dropped a 550-pound bomb that penetrated the flight deck and exited from the side of the ship at gallery deck level before exploding in the ocean.
The Zero next crashed onto the carrier's flight deck, destroying parked warplanes full of aviation fuel and ammunition, causing a large fire. The remains of the Zero went over the deck and dropped into the sea. Then, a short 30 seconds later, a second Zero, piloted by Ensign Kiyoshi Ogawa, plunged into its suicide dive. The Zero went through the antiaircraft fire, dropped a 550-pound bomb, and then crashed into the flight deck near the carrier's "island", as kamikazes were trained to aim for the island superstructure.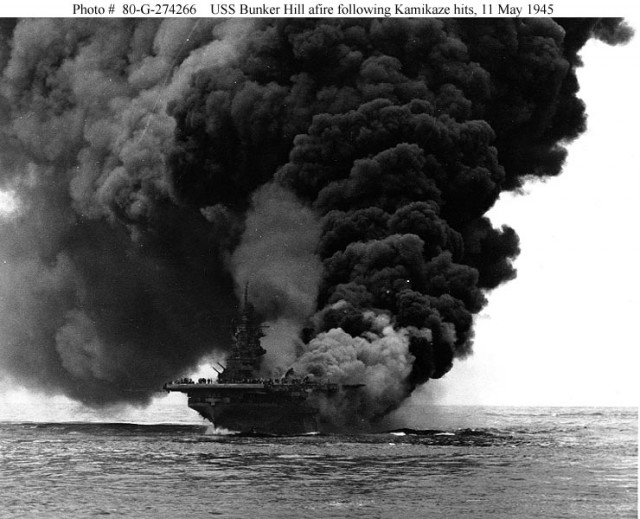 The bomb penetrated the flight deck and exploded. Gasoline fires flamed up and several explosions took place. Bunker Hill lost a total of 346 sailors and airmen killed, 43 more missing (and never found), and 264 wounded. She was heavily damaged and was sent to the Bremerton Naval Shipyard for repairs. She was still in the shipyard when the war ended in mid-August 1945.
Continues on next page