Sea King helicopters retired by the UK Ministry of Defense are being sold to make unique sheds and 'man caves.'
the Sea kings were once the mainstays of the Royal Navy. They were used in a variety of roles and they were widely used in the Cold War period. they were valued for their flexibility and reliability. Originally, they were designed for anti-submarine warfare, but they were used for a series of other roles. They were regularly used in sea and land rescues.
The Sea Kings were build under license in Britain. They were a version of the Sikhorsky SH-61. They were very popular among pilots. The came to prominence on the Falkland's War, when Price Andrew piloted one, during the conflict. They were often used as decoys, to draw Argentine missiles away from the British fleet. Sea Kings were also employed in the First Gulf War and Bosnia.
They have proven to be a valuable asset in humanitarian missions, around the world, especially during natural disasters.
Witham Special Vehicles is the military surplus firm selling the old aircraft, based on an old 600-acre airfield in Grantham, Lincs. They are selling about 30 of the helicopters for the MoD and have received a "massive amount of interest" in them. The MoD is in the process of replacing the outdated aircraft.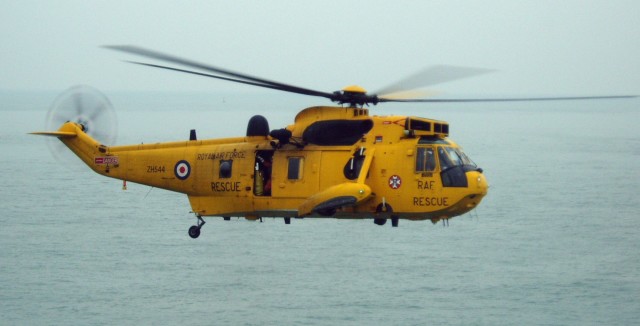 Over 20 of the aircraft can still be flown and are expected to be sold to private pilots, commercial firms and/or foreign nations, according to Paul Southerington, Witham's managing director. The remaining hulks can be bought to serve other purposes – literally, any other purpose.
"[The aircraft] are being sold for upmarket garden sheds or man caves. One guy was going to put a bedroom and sitting room in it," said Southerington. "The sky's the limit with what you can do with one. They are made of aluminum so they never rust or rot."
Southerington is enthusiastic about the helicopters' diverse conversion possibilities. There has been interest from theme parks, paintball ranges, and museums. "In London you are looking at £1 million for a flat that's half the size of one of these," he added.
The nonoperational Sky Kings are being priced between £10,000 and £20,000. All of the money goes to the MoD.
The helicopters for sale include "Junglie" Sea Kings used by Royal Marine commandos. The Royal Navy and the RAF are retiring their Sea Kings as their search-and-rescue duties have been privatized.
Image by By Marcusroos – Own work, CC BY-SA 3.0, https://commons.wikimedia.org/w/index.php?curid=4489346