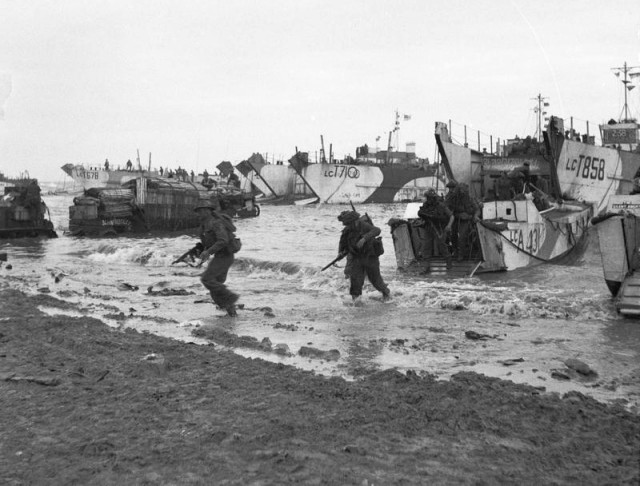 In a Special Ceremony taking place in Edinburgh, Scotland, nine veterans of the Second World War are to receive the highest honors from the French Government for their bravery. The actual ceremony will be held on a French destroyer in Leith, in which the veterans will be presented with the Legion d'Honneur for their services in the War. The awards are given as a gesture of gratitude towards those who played an active and crucial role in French liberation struggle from Nazis. Most of the recipients of the honor took part in the famous D-Day landing on the beaches of Normandy, on June 6th 1944.
Since the 70th anniversary of the legendary D-Day landings in June 2014, a number of ceremonies and commemorative events have taken place across United Kingdom. On the 70th anniversary of the D-Day, French Prime Minister Francois Hollande vowed to honor the surviving veterans of the campaign with France's highest awards. The French government received some 3,000 applications after the Prime Minister's pledge, and scores of medals were awarded to veterans all over United Kingdom.
In the ceremony onboard a French destroyer, French consul general in Scotland will present the awards to veterans. The Consul general will also be joined by French embassy's defence attaché Rear Admiral Patrick Chevallereau.
Hugh Maguire, 95 is one of those who will be receiving the French awards in Edinburgh. Maguire took part in the D-Day landings while serving with Royal Ulster Rifles; he lives in Armadale in West Lothian. Joining him in receiving the honor will be Aidan Sport, Walter Sharp, William Pritchard, John Grieg, Alexander Gavan, Anthony Delahoy, Cyril Deas, and Thomas Cave.
After the failure of Nazi's Operation Barbarossa, the US and UK forces were looking for the opportunity to deliver a decisive blow from their side of the war front. The opportunity came and a set of invasions was carried out, starting in North Africa and eventually in Normandy, which became famous as the D-Day landings. Scores of British, American and Free French took part in the invasion in which a large number of Allied forces were killed but it was the beginning of the end of the Third Reich's in western Europe. Together with the advancing Soviets they brought Nazis to their knees less than a year later, the BBC News reports.
French Consul general's spokeswoman issued a statement acknowledging the British efforts and role of British soldiers in the D-Day landings and liberation of France in the Second World War. She added that sacrifices made by the British soldiers in ridding France off the Nazi menace was crucial and will always be remembered by the French people and governments alike.