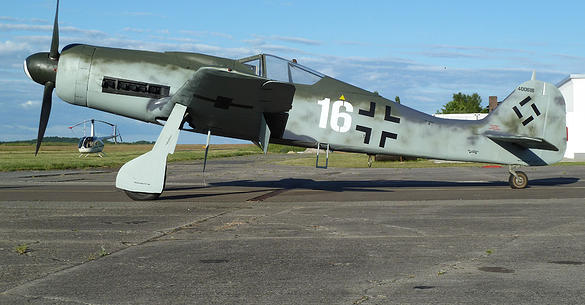 This aircraft has been restored to static condition.  FW 190 D9 WNr. 400616, formerly flown by Uffz. Koch of the famous JG 54 "Greenhearts". This is one out of only two surviving FW 190 D9 worldwide with authentic serial number and battle history. The aircraft even features the original Jumo 213A previously used on this Serial number.
riginal parts used on this aircraft, restored or un-restored depending on their conditions include:
Propeller hub
Propeller blades
Propeller spinner
Prop shaft
Gear box
Jumo 213 engine
Auxiliary drive
Most of the auxiliaries
Important parts of the turbo charger (housing re-cast)
Right upper engine mount
Right lower engine mount (banana)
Right engine cowling
Components in both lower cowlings
Components and fuel filters on the fire wall
Components of the gun cover
Large belly pan underneath the cockpit (tank cover)
Aft attachment points for the wing
Parts of the fuselage
Tailwheel assembly and wheel/tire
SPECIFICATIONS SUBJECT TO VERIFICATION UPON INSPECTION www.platinumfighters.com
We hope you enjoy our content. We think it's important to keep war history alive. If you do too, please consider becoming a supporter. Thanks.
Become a Supporter