Russia is constructing new armored vehicles on their Armata Universal Combat Platform. The wheels and tracks of these vehicles will be covered with a new protective armor. The new vehicles are designed by the Russian Research Institute (NII).
"Plate shields" are being installed along the perimeter of the machine. The shields look similar to the bars on metal bunk beds. The developers claim that the shields will protect the vehicles from cumulative grenades and anti-tank guided missiles. These are the most common threats to tanks in urban settings. The goal of the shield is to deform the head of the grenade on impact, thereby diverting part of the energy from the explosion away from the vehicle. The tank's main weapon is a 125mm Smoothbore Cannon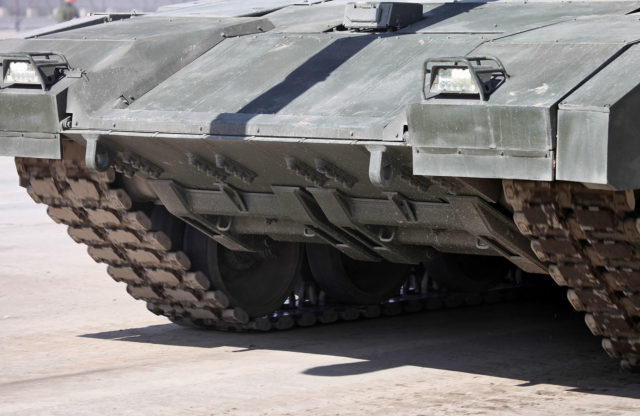 Critics state that the shields are less effective than dynamic armor in combat. "They are cheaper and technically simpler and increase engine protection and transmission by several times in the conditions of urban warfare. A key drawback is their low versatility. The lattice screen will save the technology only from certain types of hand-held anti-tank grenades," stated Dmitry Safonov, military correspondent for Izvestia.
The Russian Defense Ministry (NII) has tested the new shields on the BTR-80, a wheeled amphibious armored personnel carrier. Their tests showed that the additional equipment allowed the vehicle to retain its mobility and that it cut the effect of the grenade in half.