The Royal Mint recently released the £20 coin to celebrate the centenary of the start of the First World War.
The Royal Mint struck 250,000 £20 coins for the celebration. These £20 coins are available at face value, but could turn out as collector's items.
The coin is the only second £20 coin the mint has produced. It carries a design made by the sculptor John Bergdahl. The £20 coin features the image of Britannia watching the first British troops set sail across the Channel as they were going to war.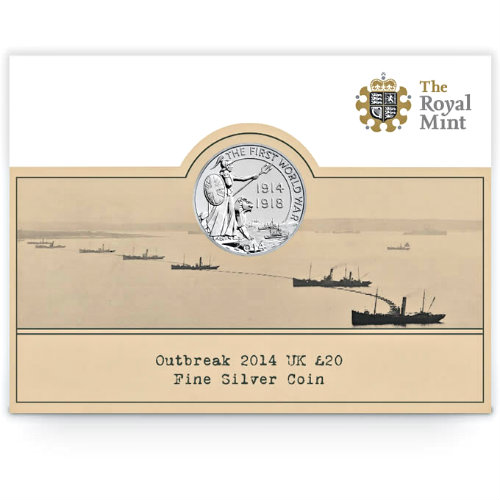 According to the Royal Mint, the £20 coins are legal tender. However, the organization added that they could become too precious to spend and will most likely become a coveted item by every coin collector.
It can be remembered that the first £20 coin was produced by the Royal Mint and released last year for the birthday of Prince George. The said £20 coin had a design of St. George and a dragon. The mint also produced 250,000 coins of the said £20 and all had already been sold out.
According to the sculptor John Bergdahl, who did the design on this year's £20 coin in commemoration of the start of WWI, he decided to use the Britannia icon to as a representation of all the allies who took part of the First World War which most came from the British empire.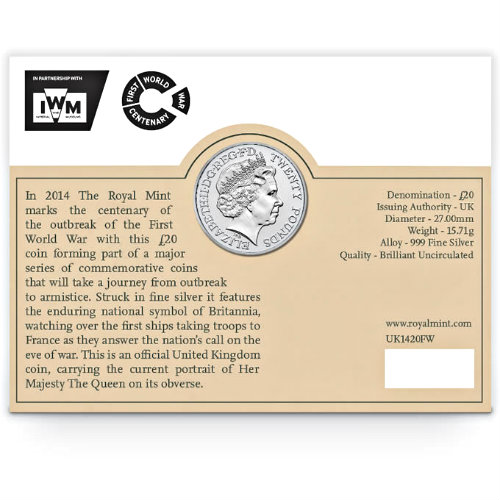 He also added that for the £20 coin, he used an art deco style inspired from the South African medal awarded for war services and the First World War memorial plaque which was given to those who died during the battle.
Meanwhile, the director of commemorative coin, bullion and medals at the Royal Mint, Shane Bissett, stated that the 100th-year celebration of WWI's outbreak is an important affair. So, it has been just fitting for the Royal Mint to strike a coin for the said event.
Bissett further said that the £20 coin in the Royal Mint's commemoration program is a way of remembering all those who had fallen, all those who braved and sacrificed for the Great War in answer to the call of the King and the country.