Sally Murray passed away on New Year's Eve, 2016, three days before turning 93.
She was raised in Arkansas during the Depression and moved to California after high school.
During World War II, she ran a turret lathe at Adel Aircraft in Burbank, California. She made parts for bombers in the war.
This makes Murray one of the 2.5 million "Rosie the Riveters," women that stood up during World War II and joined the workforce to fill industrial defense jobs for men who were fighting overseas.
A publication from the time said that Rosies "traded their aprons and knitting needles for overalls and hand tools." Another said that the hand that rocked the cradle can also run a drill press.
Rosies produced 296,429 airplanes, 102,351 tanks and guns, 87,620 warships, 47 tons of artillery shells, and 44 billion rounds of small arms ammunition.
Marsha Mather-Thrift, executive director of the trust at the Rosie the Riveter WWII/Homefront National Historical Park in Richmond, California, says that the war would not have been won without the Rosies.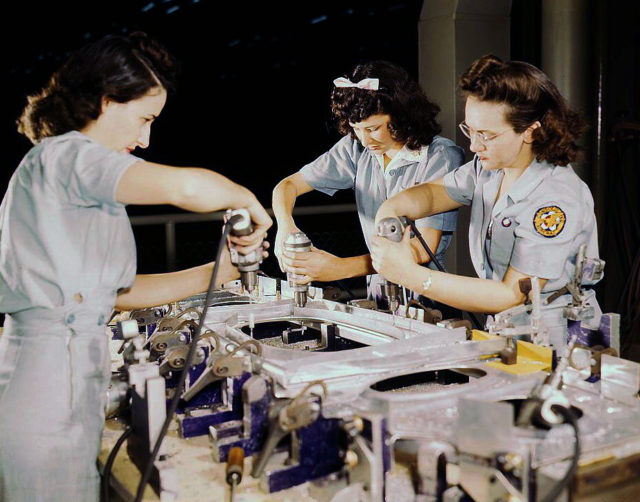 22,000 women were hired to work for Douglas Aircraft in Long Beach, California to build bombers and transport planes. Thousands more worked for Boeing to build the B-17 Flying Fortress.
Norman Rockwell immortalized them on the cover of the Saturday Evening Post and posters were hung in every American city.
President Franklin Roosevelt said that there was no longer any doubt that women deserved to be a part of the workforce.
Murray met her husband, Max, at Adel Aircraft. They were married in 1946. They moved to Max's hometown of Chicago, Illinois.
They raised a family and returned to California in 1957.
Among her careers, Murray was in manufacturing, a waitress, and retail clothing sales. During her varied careers, she maintained the home and raised the children, Daily News reported.
The Rosie the Riveter National Historic Park is the former Kaiser Shipyard where thousands of women worked on the Liberty ships. "Many people who visit us are astonished about the rich history of the home front and Rosie the Riveter," Mather-Thrift said. "Our visitor center offers a wonderful overview of that story."