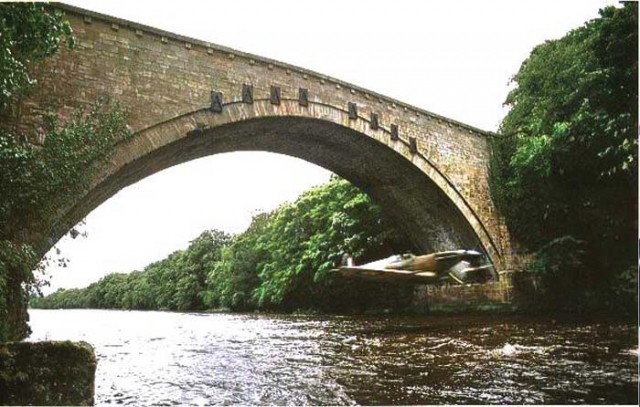 September 27, 2002, the Herald Scotland, wrote a story about a Fearless pilot from World War Two. At the age of 17, Ron Fowler was always flying. He never had any mishaps in all 54 years he was flying.
The Moray business man and the former Spitfire pilot, who was known to his friends and other flyers as Fearless Fowler, played out the most famous stunt on the nearby river Spey. He flew under the iron span of the old Spey Bridge at Fochabers while two of his friends were fishing below the bridge.
With skill and exceptionally clear thinking, he took his 37 foot span Spitfire through the center arch at a speed of 120 miles per hour and merely 10 feet above the river. Because of this, Fowler was severely reprimanded by his commanding officer. Another occasion, he buzzed a haystack and scared a farmer.
Fowler was born in Winnipeg and came to Scotland at 10 years old. He had always had a fascination with aircraft and he joined the RAF at 17. He found it ironic that he would be sent back to Canada to train as a fighter pilot before he was posted to Lossiemouth with the Fleet Air Arm.
The war ended before he could take any active role. This saved him, he recalled, from having "to be beastly to any Germans".
His passion for flying and the skill that he was able to handle the aircraft made him a natural choice to become the leader of a post-war Fleet Air Arm display team. He proved equally at home in Bearcats, Sea Furies, Spitfires and Seafires. He and his comrades performed in various parts of the UK, and as far as Malta. The ultimate test formed no part of aerobatics. This was the business of landing a Seafire on an aircraft carrier. The Seafire, the Navy's version of a Spitfire, never gained the same affection as the Spitfire. It could prove the devil's own job to bring down a moving deck. When the first post-war jet fighters were brought to Lossiemouth. Fowler was among the pilots selected to test them. In contrast to today's intense preparatory ground training. Fowler was guided solely by notes on a single quarto sheet. Laconic to the last, he studied the instructions and then left them behind as he went out on what was proved to be a successful test mission.
When he left the service, he settled at Moray and began flying on the weekends with the RNVR. One of the times when his family traveling through Sutherland by the local mail bus. He flew north from Lossie and identified the bus and made several low passes with his signature waggle of the wings.
"That's my Daddy," his excited daughter told the rest of the passengers. During the Korean War, he was called to train new pilots. He finally retired with the rank of lieutenant commander. He immersed himself in business with the same vigor as he did with flying. He managed a local transport company. The company owned a restored DH Tiger Moth and a 1930s biplane. Fowler enjoyed exciting new audiences with charity displays of aerobatics. The adventurous side of him never failed and he and Gladys Simpson, his partner for more than 30 years, also used the Tiger Moth for picnics, flying across Scotland, and landing on whatever suitable site that showed up.
His love for flying ensured that, until health prevented him from flying, he would fly on a weekly basis. He spent more than 50 years airborne and he never had a single accident.
On September 16, 2002, Ronald Gates Fowler died due to a heart attack when he returned from a trip to Loch Ness with two Canadian cousins. He is survived by daughter, Jane, grandchildren Joanna and Grant and his partner Gladys.