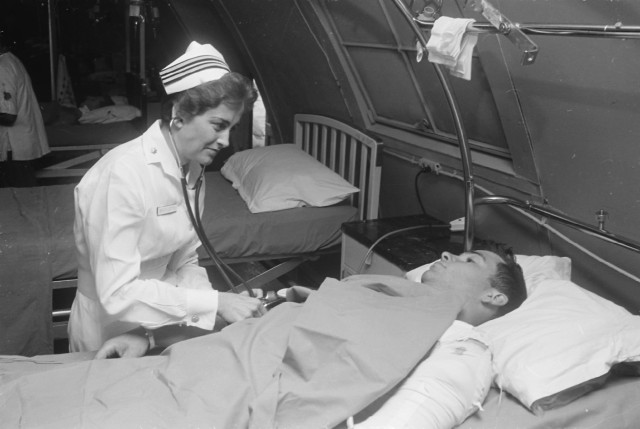 [Via]
Thousands of US women took part in the Vietnam War, mostly in support services and most went as volunteers.
They participated as air traffic controllers, intelligence officers, weather monitors, clerks, medical support, communications and many other roles, but around 90% served as nurses.
The Vietnam Women's Memorial Foundation said that women served across the Pacific including in Japan, Guam, the Philippines, Hawaii and of course in US hospitals back home where they looked after wounded soldiers who had been returned home.
In the US Navy, women served on the USS Repose and USS Sanctuary. While in the US Air Force female nurses worked on planes flying over Vietnam and during airlift operations to get injured soldiers out of the frontline.
Most women who took part in Vietnam were from the nursing divisions of the US Navy and US Air Force. Others were civilians who worked with international organisations which were operating in Vietnam such as the Red Cross and Catholic Relief Services.
The women who were serving also helped to raise funds for war refugees and orphans who were being housed at a camp at Da Nang in central Vietnam. They also supported the local Vietnamese women to train them in medical care and educate them about critical health topics.
Officially, eight military women were killed during the Vietnam War, while many more civilian women were killed because they found themselves in the middle of the conflict.
There was only one female US Air Force officer to be killed and that was Captain Mary Klinker. She took part in a mass airlift sanctioned by US President Gerald Ford in 1975. Two thousand Cambodian and South Vietnamese children were to be evacuated and rescued from the conflict.
Mary's C-5A took off from Tan Son Nhut with just over 300 evacuees aboard, but it crashed just after taking off. 138 people including Mary were killed.
Mary was still awarded the US Air Medal and the Meritorious Service Medal, The Telegraph reports.
In 1993 a new memorial specifically for women was erected near to the Vietnam Veterans Memorial, and was called the Vietnam Women's Memorial.