A History of the Mighty Eighth on film – By Paul Woodadge
Within the War Film genre there are certain types of story that film-makers have turned to more than others. I think especially about the many Prisoner of War films that have thrilled audiences over the decades.
From The Wooden Horse and A Bridge on the River Kwai in the 1950s up to the Great Escape in 1963 and Hart's War in 2002, tales of ingenuity and drama behind the barbed wire of prison camps seem to be popular.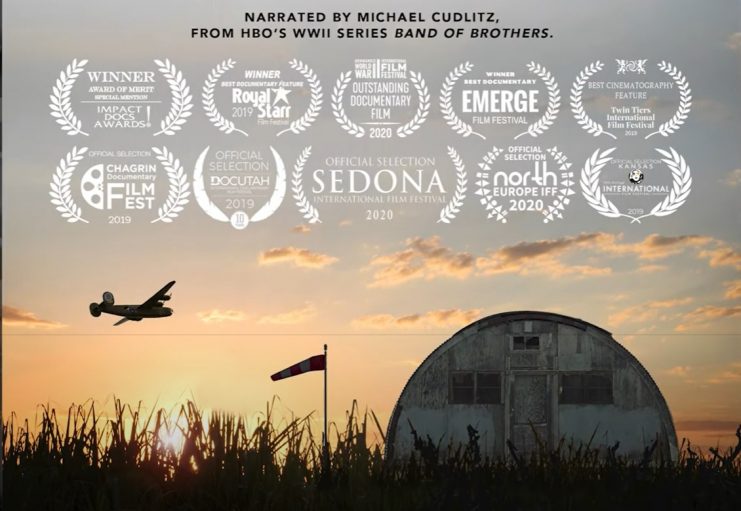 But while POW films relate the stories of downed air crews, there are also a number of famous movies depicting combat in the air, and so as part of a trilogy of articles this week promoting the new 93rd Bomb Group documentary film "Return to Hardwick," premiering on June 9th, we will look at some of the films that have taken us from the airfields of England to the flak heavy skies of occupied Europe with the Eighth Air Force in WWII.
Quite why of all the Allied Air Forces, it's the 8th that has received the most attention is unclear. The USA and RAF Bomber Command comprised numerous units, based at airfields spanning much of the globe.
But the legendary 8th is arguably the most famous, with Generals Jimmy Doolittle, Ira C. Eaker and Carl Spaatz all having commanded it during WWII. One reason perhaps is the number of Hollywood legends who found themselves in the air with the distinctive 8th patch high on their left sleeves.
The resulting press attention of actors flying into enemy country may have helped the 8th become better known than other Air Forces.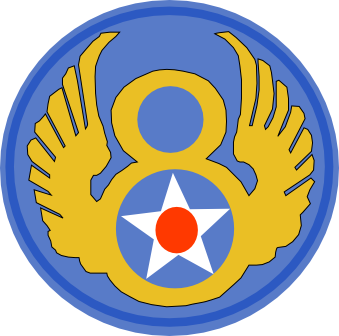 Prior to the outbreak of WWII Clark Gable was the undisputed King of Hollywood, but in 1943 he was serving as an Aerial Gunner with the 351st Bomb Group out of Polebrook, England. Officially he flew 5 combat missions, but veterans suggest he flew many more.
Allegedly the Luftwaffe's Hermann Göring offered a substantial reward for Gable's capture! Fellow actor, James Stewart however saw even more action. By November of 1943, Stewart was with the 445th Bomb Group, flying a B-24 Liberator.
He flew 20 combat missions and post WWII rose to the rank of Brigadier General and was awarded the United States Air Force Distinguished Service Medal upon retirement. But it was actually a director who really brought the exploits of 8th Air Force to a wider audience with his wonderful 1944 documentary "Memphis Belle: A Story of a Flying Fortress".
This colour production was lovingly directed by William Wyler, who was a Major in the USAAF, and was an account of the final mission of the crew of a Boeing B-17 Flying Fortress. In May 1943 The Memphis Belle piloted by Captain Robert Morgan had become the third heavy bomber to complete 25 missions over Europe.
Wyler had already won an Oscar for directing his tribute to civilians "Mrs Miniver" in 1942 and would win them again for "Best Years of Our Lives" in 1946 and "Ben Hur" in 1959. The story of making "The Memphis Belle" was almost as dramatic as the missions being filmed.
All the footage was taken on real missions and flights and on one particular bombing run, Wyler lost consciousness from lack of oxygen and on another his assistant, cinematographer Lt. Harold J. Tannenbaum was shot down and killed.
Another 1944 documentary "Target for Today" directed by William Keighley of the First Motion Picture Unit showed the Operation Pointblank raid on East Prussia. Along with Memphis Belle, these two films are still available on DVD and streaming sites.
After the war ended film-makers looked back at the perils of flying hundreds of miles into enemy country and the strains on leadership, with two films packed with Hollywood talent. "Command Decision" premiered in 1948 and starred Clark Gable fresh from his service with the Mighty Eighth, along with Brian Donlevy, Walter Pidgeon, Van Johnson and John Hodiak.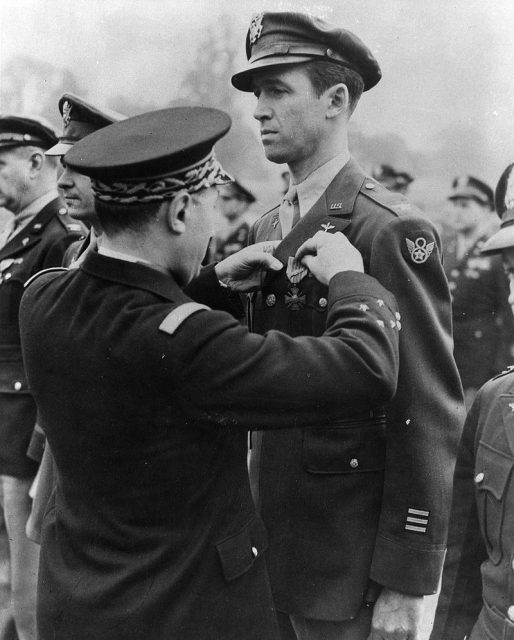 The story concerned 8th Air Force commanders struggling with the decision to prioritise the bombing of factories deep in Germany producing new jet fighters over the extremely high casualties the mission would likely cost.
Although well written and staged, nearly all of the story takes place in a Headquarters and is by today's standards rather slow paced.
Following just months later however was a bona fide classic; the outstanding drama Twelve O'Clock High, which endures today on BluRay and streaming sites. Gregory Peck, in one of the best performances of his career, plays Brigadier-General Frank Savage, who is under such stress that he suffers a break down while his Bomb Group are on a mission.
Blessed with excellent support from Dean Jagger and Gary Merrill and plenty of 20-something youthful actors playing the air crews the film has a strong sense of authenticity and is still used by the military to illustrate the burdens of leadership.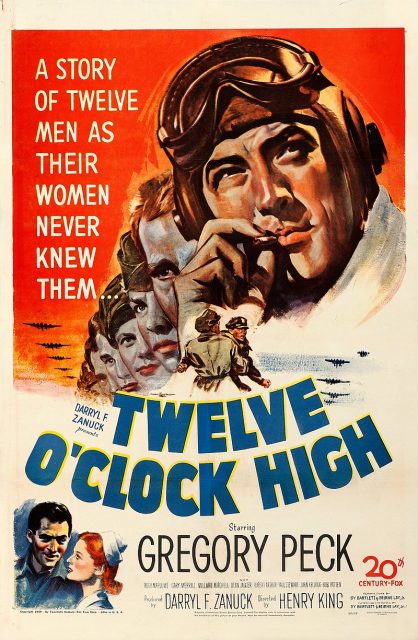 We leap forward now to 1962 and "The War Lover" starring Steve McQueen and Robert Wagner. Ostensibly a love-triangle about two pilots vying for the affections of Shirley Anne Field the flying scenes include some good shots of 3 flying B17s together with stock footage and it has to be said, some rather poor model shots.
It's worth watching, but is by no means a classic. Two years later the 78 episode TV show of "Twelve O'Clock High" began. This expanded on the 1949 movie, but this time with Robert Lansing as General Savage.
The shows used lots of real combat footage from the war and featured the stories of bomber and fighter crews both in the air and in various escapades on the ground. Some famous actors appeared as guests stars over the show's run including James Brolin, Peter Graves, Roddy McDowell, Bruce Dern, William Shatner and Burt Reynolds.
It is worth seeking out on DVD and some of the better shows tackled serious issues just as PTSD, cowardice and the morality of bombing civilian targets. A TV movie "The Thousand Plane Raid" aired in 1969 and depicted a mass bombing raid on Germany.
Alas the history got rather skewed, because the real attack depicted was undertaken by 1047 RAF bombers against Cologne, Germany in May 1942. Unfortunately the movie is something of a dud with a cast of B talent including Christopher George and Ben Murphy and it borrowed a lot of its footage from Wyler's Memphis Belle.
The 1970s and 1980s were a quieter period for war films generally, but 1979 brought us "Hanover Street" with Harrison Ford fresh from Star Wars and still sporting his Han Solo hair cut in yet another wartime love-triangle romance opposite Lesley-Anne Down and as the rival; Christopher Plummer.
There are some wonderful shots of B-25 Mitchells rolling down runways and in the air, although historically speaking the 8th Air Force did not have any Mitchells. Yet I'm counting it as an 8th Air Force film because that's the patch Harrison wears on his A2 flying jacket throughout!
It's an okay film, but is not Mr Ford's finest hour and is now only worth viewing for the opportunity to see the B-25 Mitchells.
The next notable depiction of an 8th Air Force bomber crew was brought to us by Stephen Spielberg and starred Kevin Costner and Kiefer Sutherland. "The Mission" from 1985 was an episode in the now largely forgotten "Amazing Stories" series of 45 shows, only one of which was set in WWII.
It's a fantasy take on the war with Costner piloting a B-17 into Germany on a raid. The effects and action sequences were expertly handled (as you would expect from Spielberg) and is absolutely worth watching – if you can find it.
The ending is certainly memorable and it deserves to be released on DVD. Five years later in 1990 "Memphis Belle" was given a big budget remake, but although it still told the story of a bomber crew achieving 25 missions, this time the characters were fictionalised.
The cast was made up of then mostly unknowns including Matthew Modine, Eric Stoltz, Billy Zane, Sean Astin, Harry Connick Jnr. and as one of the senior officers John Lithgow. The story was typically Hollywood with a rather clichéd crew of stereotypes but personally I love the film.
The action sequences were exciting, the performances were excellent throughout and as with "Twelve O'Clock High" the use of mostly young actors paid off.
The SFX however, although probably top notch in 1990 look rather poor these days, but it's a wonderful film and a definite must see. Two decades later movie-makers were confident enough to only use cgi to create war films, and the World was given the well-intended but ultimately disappointing movie "Fortress" in 2012.
This low-budget effort was actually about the 12th Air Force but gets a brief mention here to indicate how the years have seen us go from making films shot entirely on real combat missions, to those made entirely on computers.
It remains to be seen exactly how much of Apple's forthcoming and much vaunted "Masters of the Air" ten part 8th Air Force show will be filmed for real using genuine WWII aircraft, but with John Orloff on board, who penned two of the very best episodes of "Band of Brothers" from 2001 it's pedigree is exceptional.
Rumours abound about which unit or units the series will depict, but whichever Bomb Groups and Fighter Groups make the cut, I for one am keenly looking forward to hearing that filming has commenced, which by all accounts and Covid-19 permitting is happening very soon.
While we wait for "Masters of the Air," plenty of documentaries have been made about individual units within the 8th Air Force which are worth seeking out, which brings us neatly back to Return to Hardwick which for anyone in North America is available to pre-order www.hardwickfilm.com
New Video: The Piggyback Flight, a Story of Heroism, Courage & Strength
Later this week an interview I conducted with the film's director Michael Sellers and Narrator Michael Cudlitz will be available to view on the War History Online website and also on my YouTube channel and on ww2tv.com. It really is an excellent film and here's hoping it will be available in Europe and the rest of the world soon.