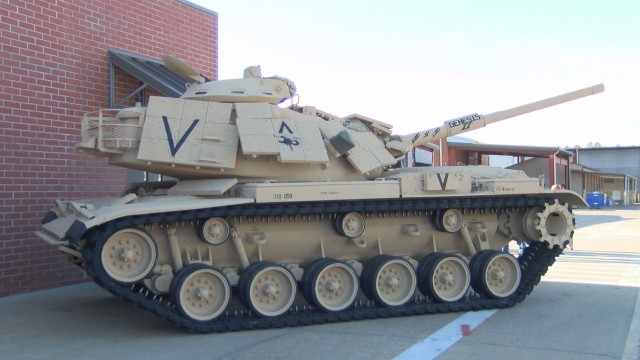 Having been painstakingly restored to their former glory, a couple of interesting historical relics that have seen U.S. war action have been presented to a national military museum in the USA.
The restoration took place at a Marine Base in the city of Albany, in the state of Georgia, USA. The two items had been used by the US Marines – an M60-A tank, popularly called Genesis Two, and an amphibious assault vehicle. They were handed over to the National Museum of the US Marine Corps by Mr. Jody Nesbitt from the maintenance command of the Marine Depot.
Mr. Nesbitt said that he and the others whom he had worked with during his involvement in the restoration project were very proud to have accomplished such a complete and accurate restoration. They all became very enthusiastic and involved in the project. Nesbitt, an ordinance project officer, added that many of those working at the base were veterans of wars, including the attack on Iraq in 1991. He said that preservation of war relics is important for future generations and their understanding of U.S. history.
The tank that has been renovated was one of those first used in the deserts of Kuwait during the Gulf War action against Iraq. The commander of the maintenance command, Colonel Jeff Hooks, said that he got a thrill out of the presentation. It was a poignant moment for him because he had been a lieutenant in the Gulf War. He recalled his division had driven their tanks across Kuwaiti deserts that had been sown with land mines.
The restoration has been done with such care that items such as a pair of goggles and a chart have been placed in the tank as they would have appeared during the Gulf War. The colonel observed that such items were now probably more neatly arranged than they would have been during the hurly-burly of war.
Along with the M60 tank and the assault vehicle, two further pieces of military hardware will be exhibited at the museum. They will be part of a program describing U.S. military history since 1976. It is likely that the museum will have to consider constructing a tailor-made building to house the tank since it is so large.
One of the curators of the museum's collections expressed the museum's gratitude for the gift. Kate Miller described the Marines as being one big family. She pointed out that former servicemen contribute twice – once through their active service and then again by such deeds as this restoration and presentation, which educate people about U.S. military history. 
The exhibition will be located near Quantico, Virginia. It is expected to be ready for visitors in 2018.