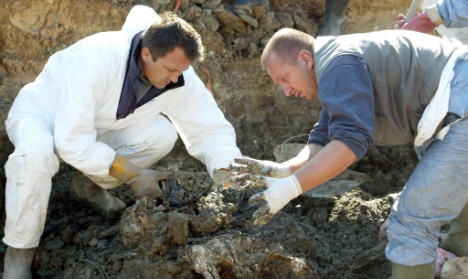 [Via]
A team searching for the remains of the Bosnian Muslims killed during Yugoslav Civil War has uncovered the remains of German and Italian soldiers killed in the region during the Second World War. Bosnia was a significant part of a communist state Yugoslavia, which went through a deadly civil war during the period 1992-1995, in which thousands of people were either killed in the fight or massacred by local militia. In the Bosnian region a large number of Muslims were killed at the hands of the Serbian Army and local militia backed by the Serbs. Total number of people killed in just the Bosnian regions of Yugoslavia was some where in the region of 100,000. Around 8,000 people are still unaccounted for and are reported missing since the end of the conflict.
While looking for the remains of the dead of a recent civil war, authorities stumbled upon a mass grave containing remains of those killed in the Second World War almost seven decades ago.
The authorities released a report suggesting that an excavation team has found the remains of some 20 German and Italian soldiers killed during the WWII. The discovery took place in the locality of Snagova, near Znornik.
The Yugoslav region was swiftly taken over by the Nazis and their sympathizers starting in April 1941. Nazis recruited local militia and formed an 'axis force' to keep the Nazi flag flying in the region. A local uprising led by the communist republican Yugoslav Partisans, also known as Partisans, took arms against the axis and defeated them on a number of fronts. The last batch of the axis forces surrendered to the Partisans and British Army on the border of Austria a week after the official Nazi surrender.
The identity of the soldiers was a fairly quick discovery, since the remains had German and Italian Currency of the 40's on them. The identities became much clearer after the team discovered items and uniforms relating them back to Germany and Italy. The next step, according to the authorities, will be to inform the German and Italian embassies in Sarajevo about the discovery and possibly hand over the remains to the countries they belong, The Local reports.
The process of the identification is on going, according to an official, since the bodies are taken to a number of laboratories where numerous tests would test the DNA samples from the bodies. This way, experts could determine the real identities of the remains based on their DNA, which is more credible then currency and uniforms.