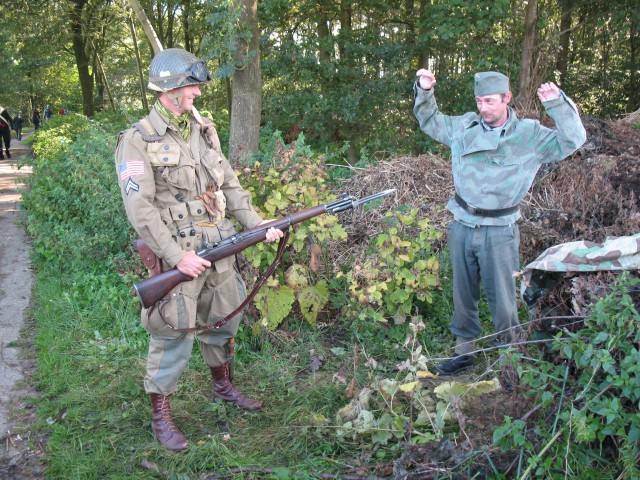 World War Two reenactors are bringing the war back to life for students at a Wisconsin high school. This to ensure that the younger generation knows and understands what the war was all about.
Around 150 junior and high school students gathered together in the Jerstad-Agerholm Middle School main hall this week for the lesson.  The three reenactors in front of them were dressed as American and German soldiers — not in today's army wear but instead in authentic World War Two uniforms — with original equipment.  The reenactors were Robert Starr, 67, his son Robert Starr, 45, both from Caledonia, and Tyler Stevens, 22, from Illinois. The trio are all World War Two enthusiasts, and reenactors in their spare time.
The three travel around the area to talk to people about what living during World War Two was like, and particularly what it was like for the troops.  They say that they want to teach as many people as possible about the history of World War Two, because it had such a big impact on America and Europe. They want to honor the sacrifice they made and to share the stories the veterans brought home.
This is the third year the reenactors have visited the school, and their visit comes at a poignant time as the school's seventh-grade students are studying the book, Soldier Boys, by Dean Hughes. Ms Faulkner, the teacher who organised the visit, says she is eager that her students' education on the war be supported by real life experience from the reenactors. Hughes' book tells the story of an American soldier and a German soldier who finally come to meet at the Battle of the Bulge in 1944.
The reenactors were able to talk about the experiences of American soldiers, while Tyler was dressed as a German soldier and could talk about the experiences of German troops, to highlight the differences between the two.
The team also brought along various pieces of equipment and goods that the soldiers would have used, including a woolen army blanket. Robert says that while the army-issued blankets were itchy, they were thick and warm and exactly what the soldiers needed during the winter in Europe, The Journal Times reports.
All three reenactors believe that people, especially children, will learn and remember more if they can touch and feel some of the objects that were actually used during the war. They're also concerned that the World Wars are being taken off the school curriculum; being covered in lessons less and less each year.
Most students begin to learn about World War Two only when they reach grade nine, but Ms Faulkner has begun teaching it earlier so the students have more time to absorb the history of that time period.
Image by Joris Nieuwint